This morning started with my slipping in the parking lot and busting my ass, which was pretty much indicative of how the rest of my day would go.
Because it's not every day you get stabbed in the face.
I've got some small bumps on my face, which are probably a residual effect of the massive doses of Accutane I was on when I was a kid. They are barely noticeable and don't bother me, so I've just let them be. But a few of them get torn off from time to time when I put on a T-shirt or my motorcycle helmet or whatever, so I finally decided to ask a dermatologist about it...
DOCTOR: Oh, they're not dangerous or anything... I can take care of them in just a few minutes.
DAVE: Uhhh... okay.
DOCTOR: First I'll just stab you in the face a couple times with this giant needle...
DAVE: GAAAH!
DOCTOR: Now I'll fry your face with electricity to burn them off...
DAVE: GAAAH!
DOCTOR: You're going to smell burning flesh and see some smoke now...
DAVE: GAAAH!
DOCTOR: Done! Don't be alarmed when you see the open wounds on your face...
DAVE: GAAAH!
DOCTOR: Or the huge white blotches...
DAVE: GAAAH!
DOCTOR: The blotches will fade in an hour, and everything will be healed up in a couple days. You'll never know they were there.
DAVE: GAAAH! Errr... I mean... really?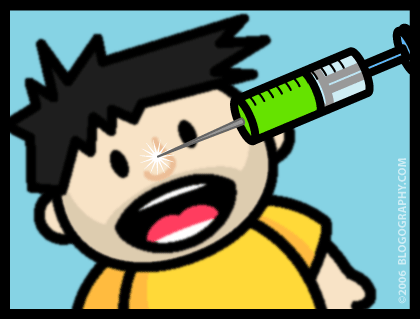 And that was that.
I'm feeling pretty good now, considering I lived through one of my worst nightmares during my lunch hour.
Tomorrow at lunch I'm thinking of climbing in a tub filled with live spiders.
But right now I've got two suitcases of laundry to wash, which is almost as scary.