Oooh! It's Bullet Point Sunday in the snow! Well, not really, because I don't see any snow falling outside... but that's what my weather widget is telling me. Darn you to heck you lying weather widget!
• WARNING! What is it with these stupid-ass warnings on DVDs now-a-days telling you not to steal movies? I JUST BOUGHT THE MOVIE... why in the heck do you waste my time telling me not to steal something I just bought... EVERY TIME I PLAY IT?
• ASSHOLES! I am getting so f#@%ing pissed off at all these f#@%ing idiots who drive down the f#@%ing road with two feet of f#@%ing snow heaped on top of their f#@%ing roof that comes flying off and f#@%ing smashes into my f#@%ing windshield...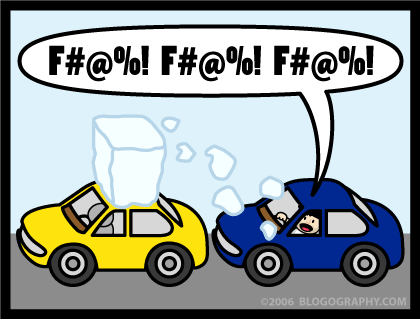 One of these days I am going to follow one of these f#@%ing dipshits back to their f#@%ing house and get rid of that f#@%ing snow by setting their f#@%ing car on fire. Assholes.
• SHOP! Adobe released a public beta of Photoshop CS3 that runs super-sweet on my Intel Macs, and the speed increase alone is worth the massively huge download. The problem is that Photoshop CS2 never gave me any problems other than running slowly. What I need is a public beta of Adobe Illustrator CS3, because that CS2 sucker crashes constantly, and there are dozens of little quirks that drive me insane on a daily basis. I don't know if the icon change is temporary or not but, even though it lacks imagination, it sure beats the shit out of the horrendous old icons.
• FLAT! My local grocery got in some pricey pizza-type frozen entrees by "American Flatbread" which are simply amazing. I've only ever found the "three cheese" version, and am dying to try the other varieties but, alas, they are nowhere to be found in the valley. This is the first time I have ever eaten a frozen "pizza" which didn't taste like it came from a freezer, making it well worth the cost. I highly recommend giving one a try if your local grocery should happen to have them in stock...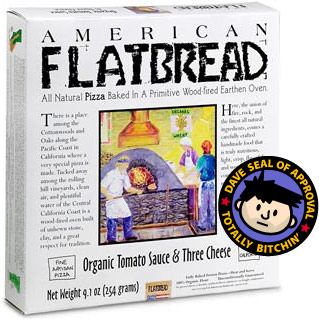 • ZOOM! My Flickr Pro Account is running out and I am debating whether or not I want to renew it considering the good people at Zooomr will give bloggers a pro account for free. After all, if Zooomr is good enough for Thomas Hawk, a photographer I totally idolize, then surely it's good enough for me. My initial goofing around with the service has been good. There's only two negatives bothering me so far... 1) Logging in with OpenID is kind of clutzy because you aren't taken directly to your account, you instead get to muck about in the OpenID server and have to backtrack to get into Zooomr. 2) The interface is way cluttered compared to Flickr, and all that excess crap distracts from viewing the photos. That being said, the Zooomr community seems more closely-knit and active than Flickr. I uploaded just one photo and received five nice comments in barely any time at all. I suppose it doesn't hurt to nab my free account and figure it all out this weekend...

Foggy Day on The Great Wall of China
• MARS! Season Three of the amazing Veronica Mars is now available for sale at the iTunes Music Store. This will come in handy since TiVo WON'T GET OFF THEIR F#@%ING ASSES AND RELEASE A F#@%ING MEDIA PLAYER FOR MACINTOSH! What f#@%ing asswipes. Oh well, when I am away from home and can't get American television, the iTunes Store is probably more convenient than trying to mess around with BitTorrent. Holy shit I hope that Apple is working on a TiVo-like solution so I can kick my f#@%ing TiVo bullshit to the curb once and for all.