This has not been my week.
And just when I think that I'm back on track, something happens to let me know that this simply is not true... usually first thing in the morning. Yesterday I wandered into the shower and absent-mindedly ripped into my freshly-electrocuted face with Apricot Exfoliating Scrub. You'd think that this is about the worst thing that could happen to you in the shower... but you would be wrong.
This morning I was washing my hair with Philosophy Strawberry Milkshake Shampoo when I decided that my head wasn't bubbly enough, and reached for that big 10-pound bottle to squeeze out some more.
This was a mistake.
I must have still been half-asleep or something, because when I grabbed the bottle it somehow slipped and ended up cracking me right in the balls.
Hard.
The incident ended up looking something like this...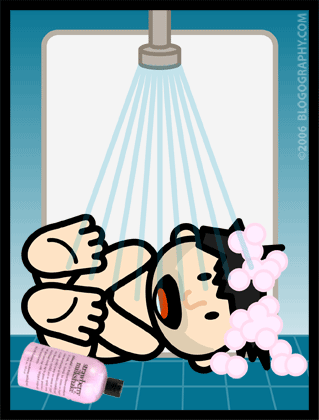 This woke me up very, very quickly.
And now, even though it's almost five hours later, the pain still lingers.
Those of you who have balls know exactly what I mean. Those of you who don't should kick a guy in the nuts sometime and have him explain it to you (but please do not mention my name... the last thing I need is to be chased down the street by a mob of guys with aching balls).
I am beginning to think that this kind of crap happens to me because I have a blog.
Subconsciously, I must be setting myself up for horribly embarrassing tales of woe so that I have something to blog about. No other guys I know have ever mentioned accidentally smacking their own balls* with a big bottle of pink shampoo. Though, now that I think about it, what guy would ever admit to something so stupid like that?
Oh.
Would it help to say that after this incident I shot a grizzly bear, drank a six-pack of beer, then skydived into the Playboy Mansion where I had a three-way with playmates of the year Tiffany Fallon and Kara Monaco?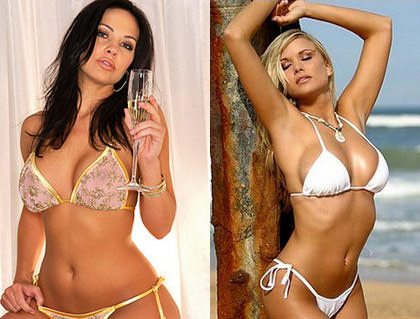 I have got to find a new hobby.
* Note that I have plenty of stories of guys smacking some OTHER guy's balls with a big bottle of pink shampoo... those post-game locker room celebrations are "c-r-a-z-y" crazy.