Yesterday it finally decided to get serious and snow here. It was a wet, heavy snow that was coming down so fast and so hard that by the time I got the last half of my car cleaned off, the first half was covered again. Driving was a nightmare, because the streets would fill up just as soon as they were plowed.
By the time I got home, it was so nasty out that I was fully prepared to spend the next eight weeks locked in my home with 60 boxes of Pop Tarts and twelve dozen cans of Coke with Lime until the snow subsided...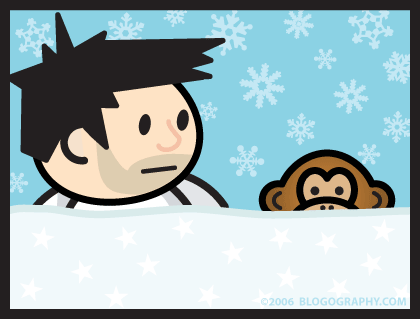 But when I woke up this morning, my Mac's "Weather Widget" said it was raining. All the snow that had fallen on my car last night had melted away. The roads were clearing up and by 10:00 the sun was shining. But there was still a sloppy mess left behind, with piles of snow heaped everywhere. This sometimes makes parking scarce because all that snow cleared off a parking lot has to go somewhere.
So when I was in Wenatchee picking up some crap at the store, I felt really lucky that I found a relatively close spot. At least I did until this woman (who looked like Ms. Crabtree from South Park) came rolling up and shook her first fist at me then drove off...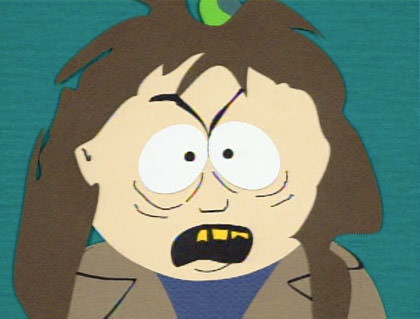 "Well that was odd" I said to myself "I wonder what that was all about?"
Fortunately (or unfortunately, as it turns out) I didn't have long to wait. As I was entering the store the woman (who parked across the lot) screams as me "I WAS WAITING FOR THAT SPOT?" Which, of course, was ridiculous. She wasn't even in the lot when I pulled into the spot. But, rather than screaming back to her "YOU'RE FULL OF SHIT!" I just pretended I didn't hear her and went about my business.
People are dumbasses. Snow or no snow, I'm seriously considering locking myself in for eight weeks anyway.