First of all, to anybody watching How I Met Your Mother last night, you should know that the idea of putting a skyscraper in Spokane is laughable. The tallest building there now is like twenty stories or so, which means a skyscraper dropped in the city would be kind of ridiculous. Secondly, for anybody who watched The Class after How I Met Your Mother had aired... WHY?!? OH LORD, WHY?? I've seen bad television before, but this is borderline tragic. I cannot fathom how The Class was ever greenlit (it makes the awful Help Me Help You look brilliant). I am worried that HIMYM ratings are going to suffer because of its crappy lead-out, and hope that they cancel this steaming pile and put on something funny.
For my own amusement, Spokane's new skyline with a skyscraper inserted...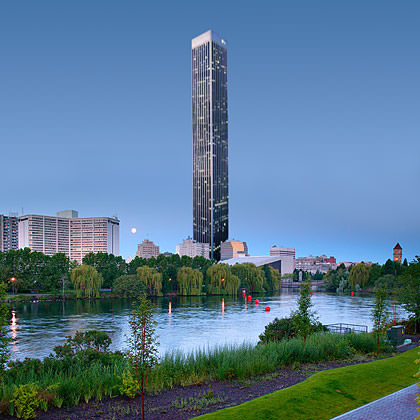 Pre-altered photo © Rob Niebrugge and stolen from his cool Niebrugge Images site.
Wow. That's actually pretty cool. I never realized how badly Spokane needs a skyscraper.