Today was supposed to be a good day. Lego Star Wars 2 (the sequel to my most favoritist video game ever!) is in release. The ORIGINAL (CGI crapfest-free) Star Wars movies are out. Apple is announcing some (hopefully) cool new stuff. What could possibly go wrong??
Uhhh... yeah. Pretty much everything.
First of all, Apple's big-ass media event was crap. They're selling movies now... which would be a good thing except that they are selling shitty 640x480 DRM-infested versions that nobody in their right mind will buy. Pay $9.99 to $14.99 for a low-res film? Are you insane? Far better to put that money toward a DVD that you can rip into any resolution you want and view wherever you want. Where is a widescreen video iPod so we can watch movies the way they were MEANT to be watched? That tiny SQUARE iPod screen is fine for watching a music video... but an entire movie?!? WTF??
UPDATE: For those who question how I could possibly think that Apple's claim of "near DVD quality" is "shitty"... here's a comparison of actual DVD resolution to that which is sold in the iTunes Store. An almost 25% reduction in picture information, which I think is considerably less than "near" when it comes to quality (note that this graphic has been shrunk to 420 pixels wide to fit my blog, but the proportions are correct)...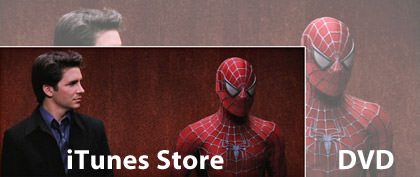 Now, on an iPod's tiny screen... it's no big deal (and the file size is smaller, which is nice for portables with limited storage)... but blow that up to an HDTV with Apple's new "iTV" device?? Yeah. We have a problem.
iTunes 7 looked promising, but the new "automatic album art" feature worked on very few of my actual songs. For example, Alan Parsons Project is well represented on the iTunes Music Store but, since they don't offer the "Anthology" album for sale, the artwork isn't available. None of the other new features will be of much use to me, and I think the user interface is actually a step backwards. Even worse, audio that played fine in iTunes 6 keeps cutting out in iTunes 7 for reasons unknown.
About the only thing to come out of the media event that sparked my curiosity is the new iPod Shuffle. It's even more compact and wearable than the brilliant original version. Naturally, I want one...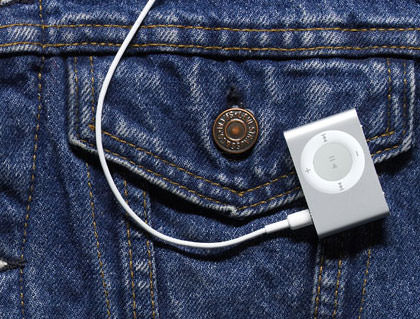 Next we have the re-re-re-re-release of the original Star Wars trilogy (i.e. "the good one") on DVD. What's special about it this time around is that they are including the "ORIGINAL-original" films where Han shoots first and all the extraneous CGI shit isn't there to distract you. I should be happy, right? After all, this is what I've wanted ever since I got a DVD player years ago, isn't it? WRONG! What I EXPECTED was that LucasFilm would clean up the originals and provide us with an anamorphic (widescreen) transfer. What they actually did was do a quick-n-dirty transfer of the same letterbox crap that they put on LaserDisc decades ago. Well thanks a lot George, but go f#@% yourself. I know that you consider the "new and improved" crap to be the definitive version of the films, but why couldn't you have taken the cleaned-up version of the original and give us an anamorphic version that doesn't suck donkey balls? Haven't you ever heard that "anything worth doing is doing right?" Or is this yet another ploy to take money from the fans and then suck us dry five years from now when you re-re-re-re-re-release the original films as anamorphic?
Lastly, I drove 20 minutes into the neighboring city of Wenatchee first thing this morning so I could be first in line at Target to purchase Star Wars Lego 2: The Original Trilogy for Xbox and Nintendo DS. Target has a special deal where you get a $5 gift card with each SW2: TOT game you buy (while supplies last!), which saved me $10 and made me happy. I rushed back home and played them a bit before work and have to say that they are AWESOME!! Better than the original by far (probably because the source material is so much better!). It's not the most challenging game ever, but I was laughing my ass off and having a great time, which is all that counts...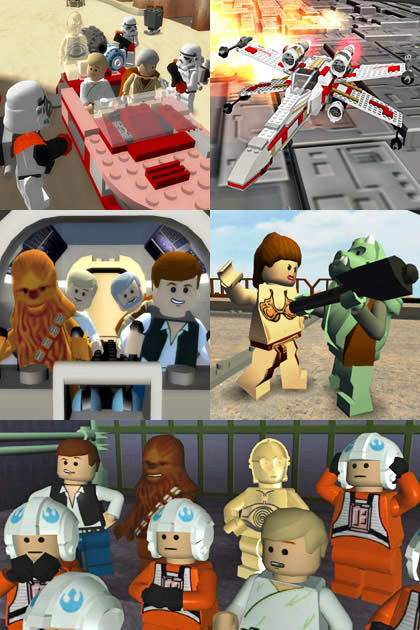 Screenshots swiped from the excellent IC Games site.
Cute as hell.
What was really surprising is how amazing the little Nintendo DS version turned out. The graphics are terrific and the sound is just amazing. Toss in the multi-player goodness, and you've got one of the best handheld games I've ever played. If you've got two cartridges, you can do Wireless 2-Player Co-Op Mode... otherwise, up to 4 people can play "Bounty Hunter Battle Arena: Search for Han Solo" off of a single cartridge! Brilliant.
So, with all this praise for Star Wars Lego 2: The Original Trilogy, what's so lame about it?
I don't have time to play it (insert frowny-face here).