When I went home to pick up my forgotten wallet, I was greeted by a small white butterfly. She was randomly flapping around like she was on crack, and I spent the better part of the afternoon trying to imagine what that stupid butterfly was up to. Did she accidentally fly into a window and get mentally damaged? Or was she just in a happy mood and needed to dance around like a fool? I couldn't decide whether I should laugh or feel sorry for her...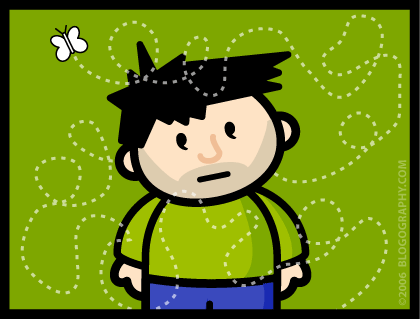 I feel the same way when I happen upon really, really, really stupid people stumbling through life like they're on crack. Do I laugh because their ridiculous exploits are mildly entertaining? Or do I feel sorry for them because their lack of smarts is so severe that they're unaware of just how stupid they are?
First it was the idiot who tried to race me to the McDonalds drive-through that I wasn't even going to.
Then is was the moron who let his kid continuously blow a whistle in the middle of a store.
Then it was the nutbag who insisted I send him a photo of myself dressed as Wonder Woman.
Then it was the dickhead screaming into his bluetooth headset at the post office.
And then today I get an email from some daft bitch telling me that my Ask Dave Widget is akin to divination, which is an occultist tool of the devil. Oddly enough, this is not the same woman who told me I was "stealing glory from God" by wanting to build a monument to my greatness.
I think all I can do is laugh.