Today was not a good day.
My car has recently fallen out of its extended warranty so, naturally, everything has decided to go wrong. But not really. The problems were there BEFORE the warranty expired, but Saturn refused to acknowledge them. I complained about shuddering when I came to a stop. Saturn blamed the tires I bought at Les Schwab... when I went to Les Schwab, they said Saturn was insane because everything was perfectly balanced. Other problems I raised were poo-pooed away like I was a chronic complainer.
So now that I am having to foot the bill, I refuse to give Saturn another dime and took my car to the only shop I trust... Midas. They do exemplary work at reasonable prices, and I feel I can trust my local franchise. It turns out I am not a chronic complainer, my concerns were all real. I guess Saturn just wanted me to wait until my warranty expired so they could charge me for the work.
F#@%ers.
My car has UNDER 50,000 miles on it and is falling apart. Guess I won't be buying another Saturn.
Anyway, Midas does a bunch of work on my front brakes and suddenly my shuddering problem is gone. There's $500 I had to spend that should have been covered by Saturn. Even worse? Midas replaced my air filter because it was horrendously filthy. Never mind that I just had my oil changed a month ago at Saturn, they apparently don't bother to check the simple things like other lube & oil places do.
F#@%ers.
And on Friday I get to take my car back to Midas so they can fix an exhaust problem that I ALSO complained about back when my car was in warranty. There goes another $400 that should have been covered.
F#@%ers.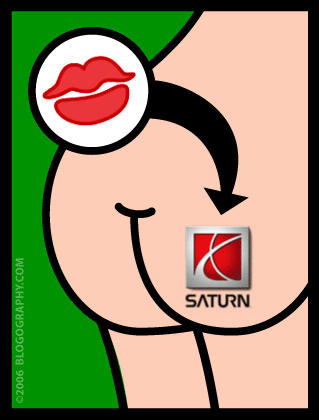 Oh well. At least Midas offers a lifetime guarantee to their work so I won't have to worry about this crap again. I guess that's more that you can say about the overpriced service at Saturn.
F#@%ers.