The replacement for my dead Mac Pro arrived today and works flawlessly. This means that my day has been spent setting up the machine, installing software, and not much else.
Oh... except I killed a man.
Sadly, his death wasn't permanent. It was imaginary. The good news is that I am not going to prison for murder, the bad news is that the rude bastard is still alive. I do, however, maintain that anybody who cuts in line at the bakery deserves to die, and I was perfectly within my right to bludgeon him with a baguette until he was dead, DEAD, DEAD!!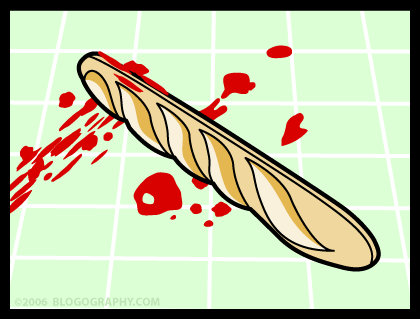 Except that there wasn't a baguette at hand, and so I stood there silently trying to burn a hole in the back of his head with my secret mental powers.
And isn't that always the case? There's never seems to be a baguette around when you need one.