Usually the first thing I do after checking into my hotel room is take off all my clothes and run around the room screaming. It's a great tension-breaker after a day of travel (not to mention good exercise). Luckily this time I totally resisted the urge to get naked, because a family of three unlocked the door and walked right in. There was a father, a mother, and a little girl. "Uhhh... Hello?" I said. "What are you doing in our room?" they replied. "Sorry, but this is my room... see, it says so on my keycard" I explained.
Turned out the guy at the front desk gave me the wrong room. Good thing that I wasn't out for dinner, or all my stuff could have been stolen. Don't let the little girl fool you, these people could have easily been hard-core criminals.
Anyway, I am once again on the other side of the state having driven back to Tacoma today...
In order to avoid traffic, I left pretty early. This allowed me to do two things: 1) Eat at the Auburn SuperMall Johnny Rockets, so I can now claim to have eaten at all five Johnny Rockets restaurants in the state. 2) Continue my Chihuly Glass Walking Tour here in Tacoma...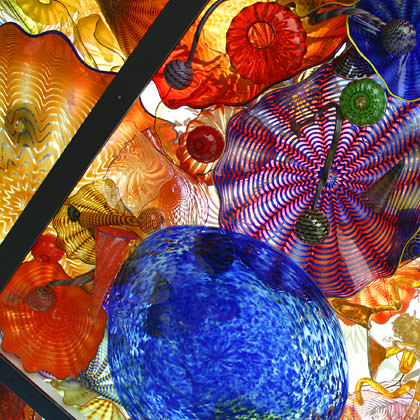 If you haven't read the first part of my tour when I visited The Museum of Glass and Union Station, you might want to go take a look at that entry first. Otherwise, I've documented the final half of the tour in an extended entry (with photos!) for anybody who finds this kind of stuff interesting...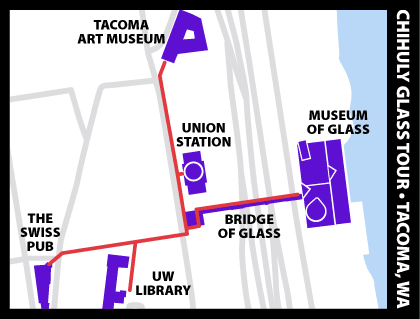 Alrighty then. Picking up from a month ago, I again cross the Bridge of Glass and marvel at Chihuly's beautiful glass ceiling...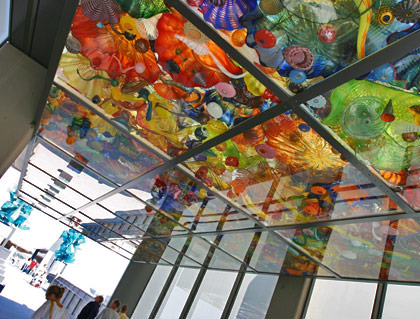 Once I'm to the other side, I continue up the street until I reach The Tacoma Art Museum which has a number of Chihuly pieces on display, including a really cool vase with amazing color in it...
The centerpiece of the museum is an enclosed courtyard with a nifty sloping floor. Chihuly has installed a number of assorted glass globes here that look like giant marbles, some reaching about two feet across...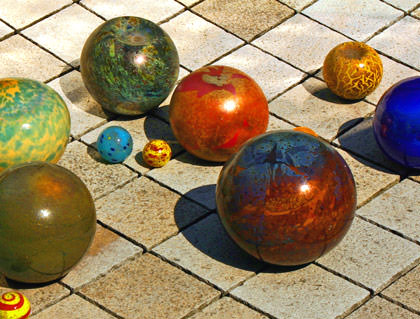 Leaving the museum, I head to the University of Washington at Tacoma Library where Chihuly has a gigantic red glass chandelier. I don't know why, but it looks kind of evil to me...
Along the way I find some sidewalk drawings (which I've put in a separate entry) and head north to The Swiss Pub. For reasons I can't even guess, they have eight Chihuly Venetians displayed above the bar. The pieces undoubtedly total tens of thousands of dollars, so either Chihuly was in a generous mood, or somebody is very wealthy...
As a reward for finishing up, I decide to have a glass of Dead Guy Ale, which has a really cool tap handle...
And there you have it. It may have taken a month, but I've finally managed to finish the Chihuly Glass Walking Tour of Tacoma!