Today I was pelted with apples.
Little green apples falling from the sky.
Well, not me personally, but my car. To say it was shocking would be an understatement...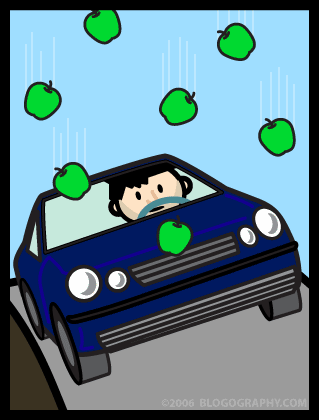 Turns out it was not quite the miracle I had first thought.
Every day I drive by the fruit packing sheds to get to work. It's so commonplace that I completely ignore the scenery. Today they were dumping rejected apples into a big truck (for juicing, I'd imagine) and a few of them over-shot the bin and rained down on my car.
It's the little surprises that keep life interesting.
I've been tagged with the BlogMe interview meme by Belinda and Mocha Momma, which I have put in an extended entry for those who should care to read it.
When did you start blogging and why? Or talk about your blog. What can I learn about you in under 5 minutes? I started blogging because I travel often and I was sending the same emails to each of my friends letting them know where I was and what I was doing. By starting a blog, my friends and family could just check in on me when the mood strikes them and see what's going on in my life. My blog has since become something very different, and is mostly a place for me to complain about stuff or write about things I see in life and how I choose to look at them.
How do you use blogging to build friendships? By reading every comment left on my blog and commenting on other blogs whenever I can find the time (which, sadly, is not very often). Comments are what makes blogs interactive and allows friendships to develop.
Who do you read every day, rain or shine? I use a webfeed reader, so the blogs I read every day are those that post entries every day. Off the top of my head that would be Delmer, Karl, Kazza, Kelly, Kevin, Miss Ann, Pauly and Tonya. That being said, there are nearly 200 other blogs in my feed reader that are checked for new content every day.
Why did you choose to share that piece of yourself in a photograph? Uhhh... what piece of me is where? Who has these photos?
How would you describe your writing style? I mostly just ramble on for a few minutes with whatever pops into my head, so I am often surprised that it makes any sense at all. I dunno what you call that.
If you could spend time with one person (other than your spouse, because really, let's not rack up the suck up points here) Uhhh... if I could spend time with one person... what? Who would that person be?? I'm tempted to say Elizabeth Hurley right away but, I guess I'd have to say Steve Jobs. I respect and admire him so much, that being able to spend time with him would be a big deal for me. Okay, I'm lying... it really would be Elizabeth Hurley... or perhaps Betty White.
What don't you write about? Anything considered a no-no in your book? Work, Friends, Family, Relationships, and Personal Stuff.
How do you feel about meeting bloggers in real life? Are you nervous? Will you have great expectations? What do you home to take away from the BlogHer experience? I don't really get nervous, and love meeting my fellow bloggers in real life. I'm not going to BlogHer, and am kind of sad that I won't be able to meet the bunches of bloggers I read who will be attending.
So soon we're going to meet each other at BlogHer. Important question. How do you party? Well, if I were attending and going to party, it would be with alcohol.
What is your favorite thing that you wrote? What got a strong reaction from readers? Links please? I don't have a favorite. Seriously. There are a few entries which I think are more entertaining than others (this one comes to mind for some reason). My "Best Of" would be a good place to start if you were seriously interested. As for a "strong reaction" I haven't a clue. Recently, this entry got over 50 comments, so that's good I guess.
Have you written anything controversial? Is blogging controversial? I honestly don't think I've written anything that is controversial... just opinionated. But things like gay marriage and abortion are considered to be highly controversial topics by many people, so I guess the answer is yes. Blogging in and of itself is not controversial, though there are those who like to make it seem as though it is. Probably because it's still considered to be a "new" form of communication? I haven't a clue.
Are you and your blogging persona the same person? Somewhat. But because I don't talk about my personal problems, relationships, friends, family, or work... there are some big pieces missing from my blogging persona.
Have you ever anonymously posted on a site to flame them? No. If I have something to say, I sign my name to it.
If you had a super power, what would it be? Flight.