I am of the opinion that people who suffer from road rage are probably blameless for their condition. There are so many total dumbasses on the road that it's no wonder people are enraged. By the time I finally got across the mountains I was so overwhelmed with anger that I was very close to having a mental breakdown. You know it's bad when your throat is sore from screaming at idiots for three solid hours (knowing full well that they will never hear you).
Here is a puzzle for you...
Given the above situation do you...

A: Realize that you are delaying traffic and pissing people off, so you pull over at the next turnout.

OR...

B: Think that you are the center of the universe, don't give a shit about anybody else, and don't bother pulling off at the turnout because it would be an inconvenience.
If you answered A, then congratulations! You not only know how to read, but you also know how to drive legally! This gives you a DaveQ of 1000, so please go get a badge and display it proudly!
If you answered B, then please f#@% off and die. Seriously. It's bad enough that you are going 18 miles an hour under the speed limit, but the fact that you are breaking the law and causing people to have a brain hemorrhage BECAUSE YOU WON'T PULL THE F#@% OFF THE ROAD TO LET US PASS... well, I just want your stupid ass beat to shit until you die.
DIE! DIE! DIE!!!
Ahem. But it was all worth it because once I got to Redmond it was Zombie time...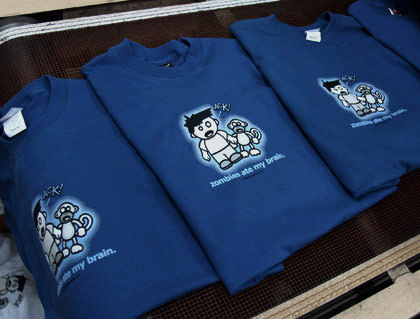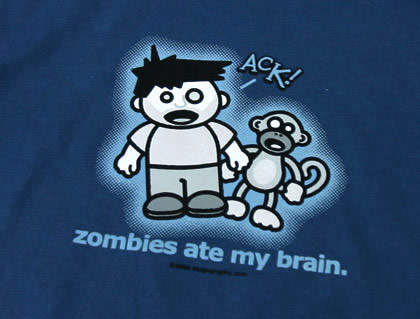 Everything turned out super-sweet (though the photos look a little freaky because I had to use a flash).
These shirts are pretty nifty because they are so astoundingly useful...
CONDITION: Hung-over on a Monday morning at work due to a weekend of heavy partying? EXCUSE YOU CAN USE: Zombies ate my brain.
CONDITION: Stayed up too late watching a marathon of old Arnold Schwartzenegger movies? EXCUSE YOU CAN USE: Zombies ate my brain.
CONDITION: Sick with the flu but can't afford to miss a day of work? EXCUSE YOU CAN USE: Zombies ate my brain.
CONDITION: Fall asleep while making love to your significant other? EXCUSE YOU CAN USE: Zombies ate my brain.
The beauty of it all is that you don't even have to say a word... just point to the shirt!
And now I'm off to Chicago...