Ask any designer, and they'll tell you that deadlines are the bane of their existence.
It's very difficult to be creative on a schedule. You get used to it, of course, but you never really like it. Except when you've been killing yourself for three weeks and the deadline is the only thing that can put you out of your misery. Tomorrow is D-Day and, as much as I am dreading it from a creative standpoint, I am positively elated on every other level. To be able to sleep more than 2 or 3 hours a night is a luxury that I have all but forgotten. Last night I didn't sleep at all, but instead took a nap for an hour-and-a-half. Tonight will be the same, I'm sure.
This is a bad thing, because lack of sleep and mental exhaustion is making me a bit cranky.
Today I very nearly killed somebody.
As I was pulling into my apartment complex, some bitch was obstructing the driveway because she was trying to read her mail, smoke a cigarette, and drink a Diet Pepsi all at the same time. This kind of multi-tasking was clearly beyond her mental abilities, so she didn't have the sense to get the f#@% out of the way. Instead, she just wandered aimlessly down the middle of the road, blocking me out. EVEN AFTER SHE TURNED AND NOTICED ME WAITING THERE!
And the entire time, all I could think of was how easy it would be to run the stupid bitch down and grind her into the pavement. The part of my brain that would usually be horrified by the thought of such a thing was sleeping, and so it seemed like the perfectly logical thing to do. So there I was ready to kill this dumbass bitch, when I blacked out...
... and then suddenly I was in my parking space.
For a moment, I was terrified that I actually did run her down, but then I looked back and saw her stupid ass still wandering in a daze, and was only partially relieved (apparently THAT part of my brain was asleep as well).
It was then that I sat in my car and thought about how much I love Star Trek.
The ORIGINAL Star Trek. The REAL Star Trek...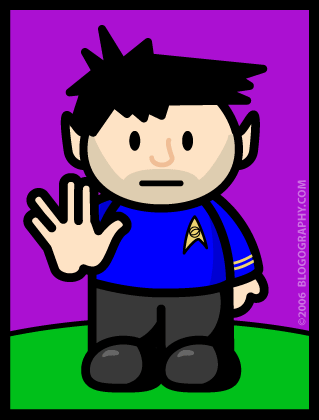 Until today, I always thought that my favorite Star Trek character was Spock. I mean, I loved them all, but Mr. Spock was my favorite. Then, all of a sudden, I realize that my REAL favorite character is Scotty, and always had been.
Mr. Scott was always so brilliant under the pressure of ridiculous deadlines. The Captain would get everybody in a big mess, and then scream down at Scotty to do something fast or else the shit was going to hit the fan. Scotty would then say it was going to take an hour to fix whatever was wrong. The Captain then went ape-shit and told Mr. Scott that he had 15 minutes or everybody dies.
And Scotty would somehow pull it off. Every time.
Then we find out that Scotty would always multiply his time estimates by a factor of four so that everybody would think of him as a miracle worker. This, as I have just now realized, was positively brilliant.
I've been doing it wrong all this time.
You can learn a lot by watching Star Trek.