What an incredibly crappy day.
Instead of spending my weekend relaxing, goofing off, and playing Xbox... I instead spent all of it working. Ordinarily this wouldn't bother me so much, but all this non-stop work is driving me insane. Literally.
Lately I've taken to talking to myself. And I'm not talking about simply reciting things in my head, but having actual conversations with myself. Like last night...
Dave: Oh crap, I have no idea what I want for dinner tonight.

Dave: A fried egg sandwich sounds good.

Dave: Hey, that does sound tasty! A fried egg sandwich it is then!
Or this morning...
Dave: I miss Chicago. I could so totally live there. Hey! I should move to Chicago!!

Dave: You don't want to move to Chicago.

Dave: Yeah, I guess you're right.
And just now...
Dave: Now that the season is over, television sucks ass!

Dave: Hey, isn't there new Entourage on tonight?

Dave: Oooh... I almost forgot about that! Thanks for reminding me!
And so on.
My self-psychoanalysis has diagnosed a mild form of schizophrenia, so I've written myself a prescription for a tablespoon of Pepto Bismol and a cold beer. I am convinced that everything can be cured by Peptol Bismol... but I hate the taste of it (hence the beer chaser). If one day they announce that Pepto Bismol cures cancer I won't be the least bit surprised, because the stuff is a miracle in a bottle. I lived on the stuff in college...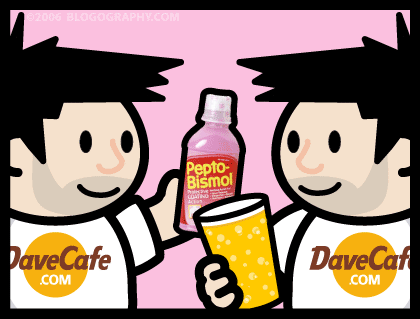 Too bad it makes your poop turn black.
And now I'm off to box up a bunch of T-shirt before bedtime...