I was all excited about Betty White being on Gameshow Maraton tonight, but it was for naught. Sure she was there and was totally cool and everything... but too much time was spent on all the other lame celebrities. This was not a good thing, because D-list "star contestants" Lance Bass and Kathy Najimy were positively stupid in their answers. And Ricki Lake was no Gene Rayburn, that's for sure.
Such a pity, as I was so looking forward to the show after yet another grueling day of work.
Fortunately, good TV news was to be found: Comedy Central has ordered THIRTEEN NEW EPISODES OF FUTURAMA!!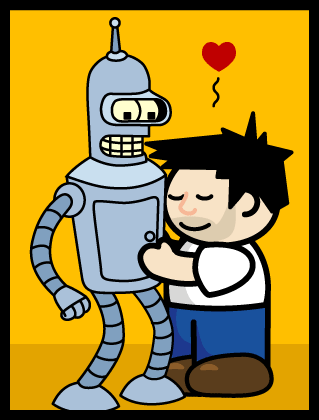 Easily my favorite animated series of all time, Futurama is far more clever and brilliant than we deserve (which is probably why it was cancelled). About the only cartoon character I love more than Bender would be Curious George, so you know this is a seriously big deal for me.
In other news, I have a new best friend...
These little crackers are called "Crunch Master". At first I was dubious because I found it seriously hard to believe that any chip could possibly out-crunch a Doritos corn chip. Crunch MASTER? Bitch, please. But I do love me the rice cracker, so I decided to give them a try.
Holy shit!
These people do not lie! They are indeed the Crunch F#@%ing Master!!
In fact, the only way these crackers could be any MORE crunchy would be if they were made out of GLASS. Yes, I kid you not, they are indeed that crunchy! They are so crunchy that if you listen really closely, you can probably hear me crunching on them... even if you are in a different time zone. They are so crispy that I dare say you could use shards of Crunch Master crackers to cut through steel. It would not surprise me to find out that Crunch Master crackers are prohibited on airplanes by Homeland Security for fear somebody could break one in half and take over the plane.
Crunch Master crackers kick serious ass.
I am hopelessly addicted to them now (especially the cheese variety). I eat them constantly. In fact, when I am not eating Crunch Master crackers, I am sad. I need to devise some kind of automated feeding mechanism so that I can be force-fed a constant supply to my mouth and be happy all the time. But there would have to be a "pause button" so that I could temporarily suspend feeding while talking on the phone. Because talking with your mouth full of crunchy crackers would just be rude.
The good news is that they are practically calorie-free. That's because there's nothing in them. There's so much crunch that there's not room for anything else.
I have to stop blogging now so I can eat another bag of Crunch Master BEFORE bedtime. I don't dare eat these crackers IN bed, because the crumbs would probably cut me up and cause me to bleed to death in the middle of the night. Hey, there's a cool new advertising slogan! Crunch Master: so crunchy they could kill you to death!
Now that's a totally bad-ass cracker.