Today is the Memorial Day holiday, which isn't much of a holiday at all when you have to work.
The drive back from Seattle-side was uneventful because I headed out early before there was any traffic on the roads. It was still overcast and drizzling in the city when I left, then poured rain all the way over Stevens Pass. Once I was over the pass, however, everything changed. The skies opened up to a glorious blue and, by the time I made it home, there wasn't a cloud in the sky (really!).
This was nice for the Memorial Day services going on at our local cemetery because they display hundreds of flags (one for each veteran killed in service, I think). If it rains, they can't hang the flags since they have nowhere to dry so many of them. And if the ceremony was cancelled, I'd miss this beautiful site...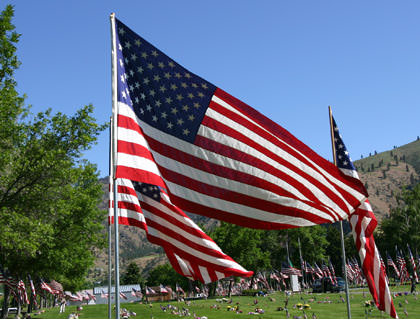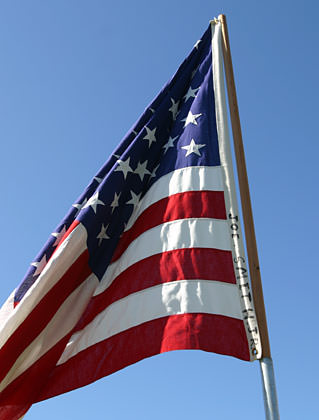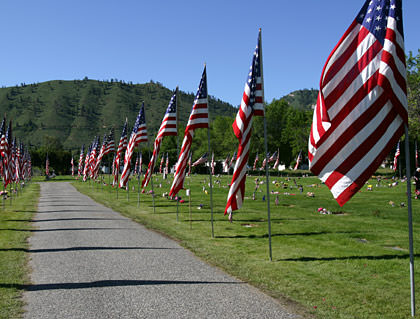 With apologies to R.W. (who is wanting a new flag design), I must say that the "Stars and Stripes" sure looks great against that flawless blue sky! If you look closely at the second photo, you can see how they mark each pennant that goes up with somebody's name.
I am not a big fan of the cemetery. For one thing, a good chunk of my family (not to mention my best friend) are buried there, and it's kind of depressing to be reminded that they have gone. When I picture them in my head, I see them as if they're still alive... but here in the cemetery it's hard to see them as anything but dead. I suppose that's why I don't visit very often.
One thing I do find interesting is the mystical symbols that are carved on various tombstones. In particular, the inverted pentagram seems to be a popular choice. I always thought this was a sign of heavy metal music or satan worshipers, and yet here it is all over the place, and always on lady's headstones...
Since heavy metal wasn't around back when these people were alive, I am guessing it means that they are satan worshipers. That woman in the middle must be hard-core, because she's got a hammer on hers as well! But when I look at the names of the people buried under the markers and see "Mae" and "Betty" and "Eleanor" and "Mabel"... well, those don't seem much like the names of satan worshipers does it?
I guess that means they were heavy metal fans after all... just really, really ahead of their time.