First of all... praise be to The Force.
I'm the type of person who becomes easily addicted to foods. Last week I was addicted to fried egg sandwiches. I had one every single day for dinner until I ran out of eggs on day 6. Right now I'm going through a kind of Pop-Tart renaissance, whereas I am consuming them for breakfast and lunch each day.
Several weeks ago, my food addiction of choice was cheese and potato pierogies. It was so bad that I was going through a box of Mrs. T's Pierogies every single day, which got kind of expensive. So when the Schwan's Man dropped by and offered up a huge bag of pierogies for a bargain price, I went ahead and took him up on the deal.
Unfortunately, they sucked ass. Schwan's Pierogies were nothing like Mrs. T's Pierogies... even though they look the exact same. Heartbroken, I shoved the bad bag to the back of the freezer and forgot about them.
Until last night when I was having trouble finding something to eat. In digging through the freezer, I ran across that bag of pierogies and decided "what the heck, it's all I got". But then as I was tossing them on a cookie sheet for baking (which is how I usually cook them), I accidentally read the recommended cooking instructions. Turns out you are supposed to boil them, then saute them in butter. So I did.
Freakin' amazing. Is there ANYTHING that doesn't taste better with a stick of butter on top??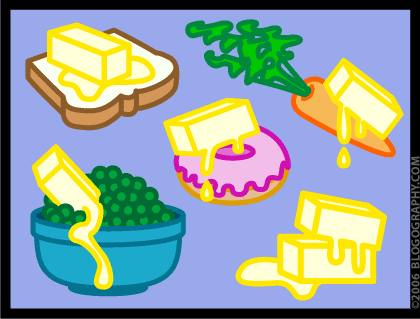 So now I'm addicted to Schwan's Pierogies, and am terrified that I'm going to run out before the Schwan's Man drops by again. I sure hope it's soon, because I'm also out of banana popsicles...
Nothing like a banana-pop to make your day a little better.