Yesterday on the way home from the dentist I stopped at K-Mart to get a pizza. That sounds strange, I know, but I kind of like the "Little Caesar's Pizza Station" there. It's the best of the worst pizzas in town, and a 14-incher only costs $5. K-Mart is kind of a strange place. Once upon a time, it was the "bargain basement" store in town, and people put up with the low quality, imitation-brand merchandise because it was cheap. But then along comes Wal-Mart, and suddenly K-Mart is caught with their Wrangler's around their ankles. No longer are they the best bargain in town. Wal-Mart has blue-light specials on every item all the time.
So K-Mart hunkers down and retools. They can't really compete with Wal-Mart (who can?) so they start getting exclusives (like Joe Boxer and the Martha Stewart stuff) and tries to serve the middle ground with good merchandise as decent prices. But it's a crowded field, because there are a lot of stores in that arena. I don't shop K-Mart very often because my favorite store in that space is Target (nothing personal, I just prefer their stuff).
So when I get to K-Mart, I order my pizza and then go shopping while I wait for it to cook. Most of the bargain shoppers frequent Wal-Mart, but you still get an occasional penny-pincher.
Like yesterday.
I make my way back to the grocery aisle so I can get some Pop-Tarts on sale (3 for $5) and find an older woman on her hands and knees, spreading out boxes of crackers on the floor. At first I think that she fell while carrying an arm-load of crackers, so I run up to see if I can help. But she waves me away and says that she's "doing fine". This puzzles me greatly, because none of the boxes are marked with prices and there's no special offers printed on any of them. The price is on the shelf. And then I realize what's happening... she is actually looking at the UPC codes and comparing them. At least I think that's what it happening. I guess that she thinks a UPC code with a lower number would be cheaper?
I suppose I should have found a way to explain it to her, but she made it clear that she didn't want my help. I still have no idea what was going through her head. A part of me hopes that wide-scale deployment of RFID technology is a ways off yet, because I can't imagine what this woman is going to do once price tags AND UPC codes aren't used anymore. She won't have anything to look for.
Anyway...
Here it is... the final "Lost Blogs" entry is now up over at DaveSpace! Click here to read it!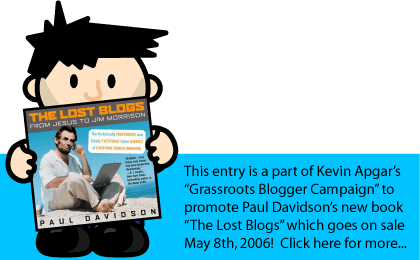 Those of you wanting to make guesses as to my "lost blogger's" identity should send me an email at the address in my sidebar. Comments with guesses will not be approved! The "main prize" has already been won, but everybody who sends me a correct guess between now and midnight Seattle time (PST) will be entered in a runner-up prize giveaway for a free Blogography T-shirt. But remember the rules... you only get ONE GUESS... so make sure you're sure about who it is before contacting me, because any subsequent guesses by the same person will be tossed out. Good luck!
If you want to learn more about Pauly's book (or pre-order a copy), visit The Lost Blogs site!