I finally got around to finishing up the last hour of VH1's I Love Toys show and have to say I am monumentally disappointed. THE HULA-HOOP IS THE #1 TOY OF ALL TIME?!? That's the stupidest thing I've ever heard of. The Hula-Hoop was a fad... not a great toy at all.
But the show was great fun, and did remind me of my favorite toys from over the years. With nothing better to do, I decided to come up with my own list of top ten best...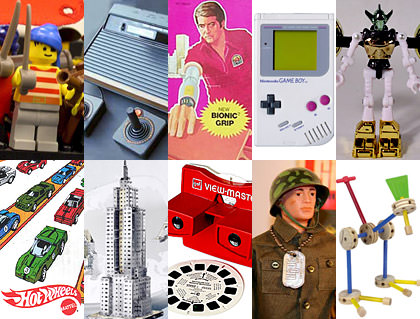 Lego. Easily the greatest toy ever created, there is not a time in my life that I can recall Lego not being in it. In the early days, all you had were bricks... if you wanted to have a Lego figure, you drew a smiley face on a yellow piece and that was it. But now Lego is cooler than ever, with little pirate and ninja mini-figures to populate your self-created universe. Lego kicks ass!
Atari 2600. I shudder to think how many wasted hours were spent staring at the television playing Atari. My favorite games were always of the explorer/RPG type genre (not that you could have much of an RPG back then)... those games that had a purpose. My favorites being "Adventure" and "Superman".
Six Million Dollar Man. My Steve Austin action figure was beyond cool. He had a hole in his head so you could look through his bionic eye, and had fake skin on his arm you could roll up to get to the bionic "parts" inside. You could also get Steve's space capsule (which turned into a bionic repair center), and other action figures like Oscar Goldman and Fembots!!
GameBoy. I am pretty sure that I've owned each of the GameBoy models that have been released over the years... from the original Black & White... to the GameBoy Color... to the Advance... to the Nintendo DS. Being able to "game on the go" is almost too good to be true, and Nintendo has always been there to make mobile gaming cool.
Micronauts. This very retro toy was a big favorite back in the day. You started out with the little transparent "Time Traveler" dude, then added other nifty characters like the evil "Acroyear" and "Pharoid". Everybody had holes on them so you could plug them into bitchin' vehicles like the "Mobile Exploration Lab". If you are a fellow Micronaut fan, you need to visit the Micro-Outpost!
Hot Wheels. There were too many days spent running Hot Wheels track through my childhood home, then racing cars through the twists, turns, and loops. Keeping up with the latest hot cars was a big status symbol in my neighborhood. I also played around with Matchbox cars, but they never captured my imagination like Hot Wheels.
Erector Set. A real building toy for real men made with real metal. Oh yeah! Erector Sets let you get pretty creative in terms of what you could build, and you were able to order extra parts from the Erector company in order to create exactly what you had in mind. Any toy that comes with a wrench is entirely too sweet.
Viewmaster. Back before the VCR and DVD the only way you could travel the world and watch big-name entertainment at home was with a Viewmaster. In some ways, it's still superior technology than what we have today because it was in awesome 3-D!!
G.I. Joe. Yeah, like every other kid in my generation, G.I. Joe was a huge favorite growing up. My favorite was always the Joe that had "real" fuzzy hair and beard, along with Kung-Fu Grip and a bad-ass scar on his cheek. In many ways, G.I. Joe was even more of a vain toy than Barbie, because there were all these clothes and accessories you had to collect to make sure that your "Joe" was the coolest on the block. Eventually the 12-inch Joe was replaced by these pussy 3-inch models that weren't nearly as fun.
Tinker Toys. I was really into building toys growing up, and started out with Tinker Toys. Then moved on to Lincoln Logs. Then Erector Sets. Then Lego. Sure Tinker Toys were always kind of limited in what you could create, but it was the first, and I do remember having a lot of fun with them when I was young.
Speaking of toys... Boing Boing had a link a while back as to how you can make photos look like tiny little models. I gave it a try and ended up with this shot of Toy Shanghai...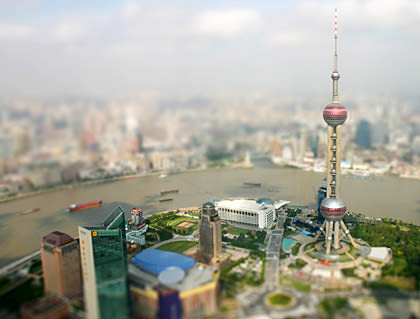 Nifty!