Most everything I buy now-a-days is purchased online. And one of my most favorite places to shop is Buy.com.
They're a solid, reliable company with a huge selection at very good prices. I like that they make it easy to manage my orders. Their shopping cart is great. They accept PayPal for payment. They ship quickly. Their policies are fair, and most of the time I can count on everything going smoothly when I place an order.
All-in-all, Buy.com is a great place to buy stuff.
Unless something goes wrong.
Because if something goes wrong, you will inevitably have to contact Customer Service. And Buy.com Customer Service sucks ass. Every single time I have had to deal with them, I end up so enraged that I want to kill somebody. If you ever hear in the news that I've gone on a murderous rampage and then locked myself in a donut shop somewhere, it's Buy.com Customer Service that's probably the cause of it.
And the reason for this is because the only thing they ever seem to do to service their customers is to send out piece-of-shit generic responses that usually have nothing to do with the question you asked. I've come to the conclusion that there can be two reasons for this...
A) They don't have actual people in their Customer Service Department, but instead have a big machine that automatically generates these stupid generic responses to your emails...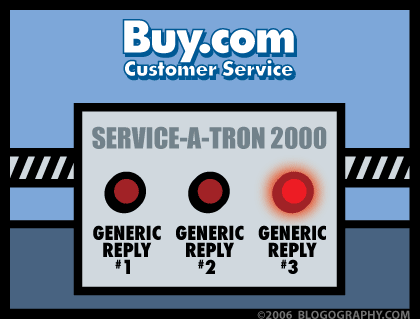 B) Their entire Customer Service Department is staffed by monkeys with PCs...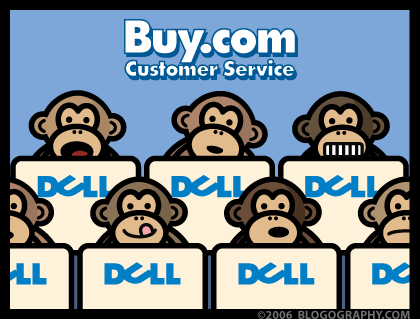 Because, seriously, there is no way that real-live people could be responsible for the shitty service you get. Real-dead people maybe, but I'm pretty sure it's illegal to employ the deceased.
Take for example my efforts to pre-order a copy of Pauly's new book: The Lost Blogs.
The book is offered for pre-order at Buy.com for the bargain-basement price of $10.04. They tell you to "place your order today and be one of the first to receive this product when it arrives!" I just love being first, and so I did. I placed my pre-order, then marked May 1st on my calendar with a happy face, because that's the day my book would ship.
Except Buy.com cancels my order after a week with some generic email telling me that they can't get the item from the publisher in a timely manner. Well no shit! It says right on the site that it's not available for three months! I knew this when I placed the order!
I send an email asking why they would ask me to place a pre-order, then cancel because the item isn't available.
They write back with another dumbass generic response that just tells me the exact same thing they told me in the cancellation notice email. I respond with my question re-phrased to make it clear what I am asking, but never get a response.
Thinking perhaps there was a release date change and it's some kind of error, I place ANOTHER ORDER.
Only to have it cancelled AGAIN.
And so AGAIN I write to Buy.com Customer Service asking why the f#@% they even bother to accept pre-orders if they are going to f#@%ing cancel them before the release date even arrives.
Another idiotic generic response about the item not being available. WELL NO SHIT YOU MORON!! THAT'S WHAT A PRE-ORDER IS FOR!!
So I finally take a difference approach and fire off a fresh email asking if the reason my order keeps getting cancelled is because I am paying with PayPal. I theorize that there is probably a time-frame that companies are obligated to ship the product when they take your money, and perhaps this is the reason? Is that why? Can they just delay processing the payment until the item is available... just like they don't charge your credit card until something ships?
Same f#@%ing generic response that in NO WAY even comes CLOSE to answering my question.
Ergo, nobody reads any emails that you send to Buy.com Customer Service. It's either a machine or monkeys. And it's not that I have a problem with companies using generic responses... IF THEY ANSWER THE F#@%ING QUESTION, but how the f#@% can you possible call this kind of treatment "Customer Service?" It's more like "Customer Torture".
And so now every time I need to buy something, I have to ask myself if Buy.com is someplace I really want to shop. Sure it's great when everything works out, but heaven-help you if it doesn't. If this is the price of saving money on things I want, I'd rather pay the extra and know that I'll be taken care of when things go wrong.