I have no idea what I want to write about today. Usually when I have time to blog, I sit down and at least one topic comes to mind. Today there's nothing... just a bunch of random crap that nobody is going to care about. Ordinarily, I'd work on it a bit until something struck me, but today I am completely lacking in ambition. So totally random crap it is!!
Hey, you should feel lucky I'm bothering at all...
GAMES: Last year, a friend of mine got pretty sick, and so I miniaturized a few board games and sent them to her to help pass the time with her visitors. I had forgotten all about it until yesterday when I accidentally ran across the files I used to make the games and all the pieces. My favorite of the lot was always "Daveopoly" in which I recreated absolutely everything in a Monopoly box to be "Dave-ified." All the streets have been renamed in my image ("Davetucky Avenue," "Davelantic Avenue," and "Davewalk" for example). But I didn't stop there, I put my face on all the money and re-drew every last "Community Chest" and "Chance" card (my favorite being the "Get out of pound-you-in-the-ass prison free" card). Drawing all that wasn't really difficult, but cutting it all out and putting it together was sure a pain. Next time she's getting a deck of cards.
LIZ: A totally crappy episode of Project Catwalk greeted me after spending a couple hours downloading the torrent to episode #6. There wasn't much Elizabeth Hurley this time, and instead we had to look at some freaky guy with tattoos who is apparently a famous British designer. HELPFUL HINT TO SKY ONE BROADCASTING: Nobody gives a flying f#@% if some idiot can make a shitty-looking dress out of a shower curtain... PEOPLE ARE WATCHING YOUR SHOW TO SEE LIZ!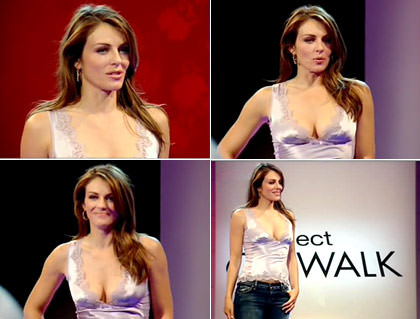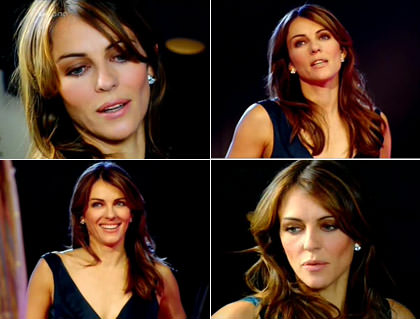 Next season, hire an editor that understands the true power of Elizabeth Hurley's breasts! Dumbasses.
TWO-POINT-NO: I still haven't made my way through all the email that piled up while I was gone over the weekend, but I did dig deep enough to find one from some douche wanting me to sign up for a "Web 2.0 Conference". HELPFUL HINT TO ANYBODY SENDING ME EMAIL: Any time I see the words "Web 2.0" in an email, I delete the stupid shit immediately. Do not pass spam filter. Do not collect conference fees. If ever there was a marketing hype term that was as useless as a bow on a turd, this is it. The web is evolving, and always has been. Assigning "Web 2.0" to some arbitrary technology so you can sucker people into thinking that Javascript and DOM is something new is just stupid. Are you the same moron who was declaring Flash as "Web 2.0" five years ago? Yeah, that's what I thought. Anybody pushing "Web 2.0" is trying to sell you something.
BETTY: Running to the other edge of the "remarkable woman spectrum" comes the news that Betty White has been honored for her work on behalf of animal rights by the Los Angeles Zoo. She is now an official "Ambassador to the Animals" which sounds cool, even if I don't know what that means. I just hope it doesn't interfere with her acting, because her recent appearances on Boston Legal have been GOLD. Giving Betty a gun and having her rob convenience stores was genius.
T-SHIRTS: Well, the weather seems to be clearing up, so everybody who has a Blogography T-Shirt from the Artificial Duck Store will be happy to know that I've got another order going in tomorrow morning. With luck, I'll be shipping orders at the end of the month! Sorry for the wait.
OLYMPIC: Seriously, does anybody give a crap about the Olympics anymore? It seems to be less about an athletic competition, and more about a competition to make money. They're always adding new events in order to capture public interest, and half the crap doesn't make any sense. I swear, if this trend continues, they're going to have Wet T-Shirt Competition as an Olympic sport. Besides, it's too heartbreaking watching some guy from a poor nation who works two jobs in order to pay for his training compete against wealthier nations that spend millions on their athletes. "Going for the Gold" has an entirely different meaning now that we're actually talking about networks "Going for the advertising dollars Gold."
GROMIT: Well, that's all folks... my copy of Wallace & Gromit: The Curse of the Were-Rabbit arrived today!