Quite a while ago, I had the idea of creating a blog directory site that was entirely visual in nature. There would be no text at all... just pictures of bloggers that you could click on when the mood struck you. I thought it an interesting way to discover new blogs, and also put faces to the blogs you already know about.
Unfortunately, life got in the way, and I never quite got it going.
Until Tuesday.
On Tuesday I got another nice invitation to join one of the many "Blogger Networks" that keep popping up. They liked my blog and thought it would be a fabulous addition to their group. And just like the last time, it was a network I had never even heard of, so I wrote back and politely declined. I explained that this wasn't something I was interested in just now, but best of luck and I hope your endeavor is a successful one. UNLIKE last time, I received a reply:
"Are you stupid?? We're building a powerful network that could explode your traffic and give you exposure you could never get on your own!!! Blah blah blah blah blah."
And that's when I got to thinking... what do I care? I don't have ads or anything. It's not like I get a prize for having more readers. And the more I thought about it, the more offended I became. Some of these networks actually look worthwhile for finding great reads (9rules must be good, because both Pauly and Firda are members)... but most of the others I've found are nothing more than elitist wank-fests. My joining would just provide links for their crappy blogs, and I don't even care about my own traffic. So I wrote back another email and told them "sorry I am too stupid to join... f#@% you, and have a nice day."
And then yesterday I woke up and decided to create my own elitist blogging network...

Well, actually, BloggerPeeps is not so much a network as it is a list of blogs that I like. Every couple of days I'll send out a batch of email invitations to people in my web feed reader and, if people want to become a member, I'll add them to the site and they officially become a VIB... Very Important Blogger.
Then, if you should wish to show off your new status amongst the blogging elite... I'm making little BloggerPeeps member badges, and am working on these little sidebar widgets that will fit nicely under a Flickr Zeitgeist. Right now they just randomly grab members and rotate through them, but I am working on a way to make it so that when you click on a face, you'll go to their blog...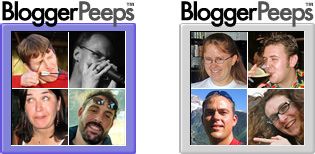 I'm also going to finish making the MacOS X Dashboard Widget, so Mac users can access the BloggerPeeps Web Feed right from their desktop...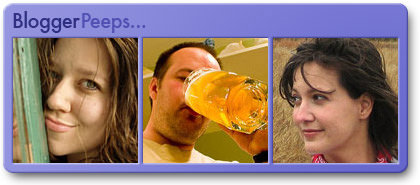 Sweet! Now I have a project for the weekend.