You just figured out Blue's Clues! You just figured out Blue's Clues! You just figured out Blue's Clues because you're really smart!
I don't think it will come as much of a shock to admit that I was a huge fan of the Nickelodeon Kids television show called Blue's Clues. Back in my pre-TiVo days, I'd set the VCR to record the show so I could have something to watch after work. A simple show that I could just sit and decompress with. There was something about the oddly-rendered, superficial world of Blue's Clues that I found calming.
For those of you who have never heard of it, Blue's Clues was about a guy named Steve and his pet dog Blue. Each episode, Blue would wander around leaving paw-prints on three different items in order to give Steve "clues" as to what she was wanting. With each new find, Steve would draw a picture of the clue in his "handy dandy notebook" and then go sit in his big red "thinking chair" to try to solve the mystery. For example, Steve might find clues of an alarm clock, a blanket, and a bed... then come to the fabulous conclusion that Blue wanted to take a nap.
It was good clean fun, and along the way Steve would play games, dance, sing songs, and do other educational activities like read a book with Julia Louis Dreyfus...
The show was awesome, and I so totally wanted to be Steve when I grew up because he was always having such cool adventures...
Well, I guess "grow up" is a kind of relative term, because I started watching when I was 30... but still. I wanted to be Steve.
Anyway, eventually Steve left the show and was replaced by this guy "Joe" who wasn't nearly as cool. Since Joe totally blew chunks, I stopped watching and went back to reruns of Teletubbies for my entertainment. The last I heard was that the reason Steve left the show was because he had a heroin problem and eventually died of an overdose.
I was kind of sad about that.
So imagine my surprise when I was goofing around the internet this morning and ran across a web site called "Steve Burns Rocks" which showed me that not only had Steve not died, but he eventually went all gold-tooth "cronk" and became an indie musician...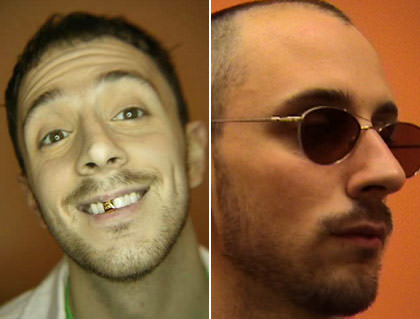 WTF?!?
Did Steve fake his death so he could escape being linked to a children's television show and instead be reborn as a "serious musician"?? I just didn't know. So I did what I always do in these cases... I wander over to Snopes to find out if they've got anything on the rumor. And they did.
So Steve was never dead, though the heroin addiction would certainly explain the gold tooth.
Personally I think the new and lame Blue's Clues host "Joe" is behind the rumors. The bastard.
And now, before I go enjoy a lovely Saturday afternoon at work and see how many emails I got from people outraged by my "Bi-Curious George" cartoon yesterday... one last question...
HOW MANY F#@%ING TIMES DO WE HAVE TO F#@%ING KILL THE F#@%ING "BROADCAST FLAG" SHIT BEFORE IT WILL STAY F#@%ING DEAD AND DUMBASS POLITICIANS WILL STOP TRYING TO F#@% US OVER WITH THIS F#@%ING BULLSHIT?!?
This is an abhorrent piece of legislation that has already been killed a half-dozen times, but now I am reading over at Boing Boing that it has once again been drug to the floor by the mentally-challenged Oregon Senator Gordon Smith, who is hereby invited to lick my balls.
Seriously lick my balls.
Once this draconian shit gets started, it will never stop. Never mind that you PAY for your television cable or satellite hook-up... that you PAY for the music and shows you enjoy... politicians want to be sure that you only enjoy them when and how THEY want you to. Flying an anti-piracy flag here is ludicrous, because there will ALWAYS be a way to pirate the crap... legislation only hurts honest consumers... not the pirates they claim to be fighting. And Hollywood should KNOW better. The more you treat honest people like criminals, the more of them will actually become criminals.
If you even remotely care about your right to watch and listen to content YOU pay for in a way that YOU want, read the article on Boing Boing and visit the EFF so you can send an email to your Senator. Then go encourage others to do the same. If you don't, it may only be a matter of time before you have to kiss your TiVo and iPod goodbye (and just forget about any cool new technologies that allow you to enjoy media in a way that's convenient for you).
Once this Bill is killed off (again) can we please just shoot the next dumbass Senator who is corrupt and stupid enough to bring another piece of "Broadcast Flag" legislation to the floor? That would be great.