We are living in a digital world and I am a digital boy.
Oh crap. Now I'm going to have Madonna running through my head all day.
Anyway, the truth of the matter is that I am a digital boy. I love living in a digital world where I can take my entire music collection with me on my PowerBook. I love being able to take a photo on my digital camera and then digitally send it to my digital photo software and digitally do whatever the heck I want to digitally do to it.
But that's not really a digital world at all, is it? I want an actual digital world to live in... like The Matrix or something...
Flying around, blowing shit up, kicking asses with kung-fu... how friggin' sweet would that be? Plug me in!
In the meanwhile, I just have to be content with what's available now.
But when it comes to photographs, this kind of sucks because everything I have before 2001 is on film. Boxes and boxes and boxes of film. Transferring my CDs into iTunes was a pain in the ass, but I managed it. Transferring my film into iPhoto is another matter entirely. It would take days of sitting in front of my computer with an expensive scanner, and I just don't have that kind of time.
Enter a company called "DigMyPics" who will handle the drudgery of scanning your film for you.
For a price.
A pretty big price. I sent in a test batch of 920 photos to be scanned and ended up paying a cool $600 for the privilege. Was it worth it? Well, for those of you who are interested in this stuff, I've put the answer in an extended entry.
For those of you who are not interested, come back tomorrow when Bad Monkey will be making an appearance. Because everybody just loves a monkey.
Okay then... back to my paying $600 for scanning services. Was it worth it?
Yes.
Mostly.
The good news is that I can now have 920 pieces of my life digitized on my PowerBook that I didn't have before. The bad news is that the results were not exactly what I was hoping for. There are a couple problems I've run across with the scans that will require me to do some work before I can be happy enough to transfer them into iPhoto.
1) Dark photos are murky and drab. This is kind of surprising, because DigMyPics claims that no scan is released until it is looked at by three technicians. But in almost every case, low-light images look nothing like their printed counterparts. This example is from a trip to Vancouver I took with friends for Expo 86...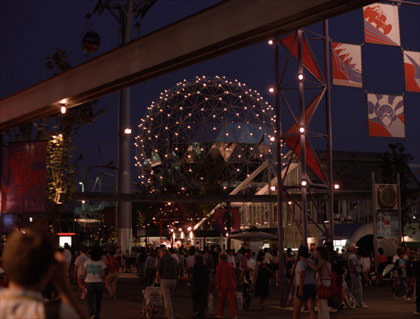 Yargh. The photo was taken at dusk, but the scan makes it look more like midnight. A few minutes in Photoshop and I can improve it dramatically...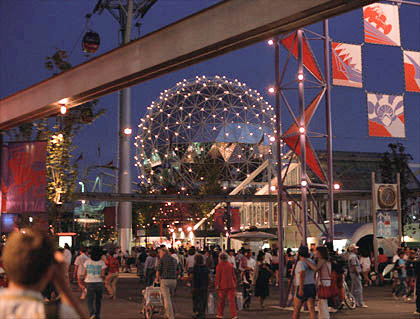 That looks quite a bit more like the print in my photo album and, with a bit more tweaking, I'm sure it will all work out fine. The problem is that I was not expecting to spend time fixing images that I paid to have fixed for me. I think they must just run an "Auto-Levels" on the image and then dump it... certainly not the individual attention I was expecting. Fortunately, not many of my photos are low-light images, but it's still a bother.
2) Film grain is way too heavy. There is nothing you can do about film grain... it's a part of the chemical process which makes film-based photography possible and, at best, all you can do is camouflage it. Usually this involves running specialized scanning filters (such as Kodak's GEM) which diminishes the grain to manageable levels. But DigMyPics apparently didn't do this, so most all of my scans look like they're painted on sand. This example is from a trip to Maui, also in 1986...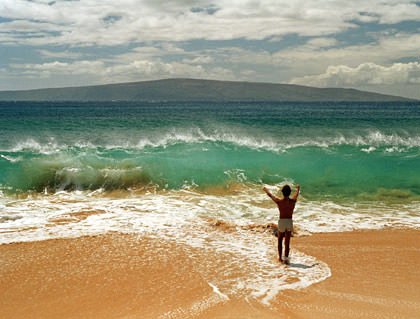 It's a great shot. It scanned very nice. And, because this is a low-res web image, you don't notice any problems. But let's take a look at 100%...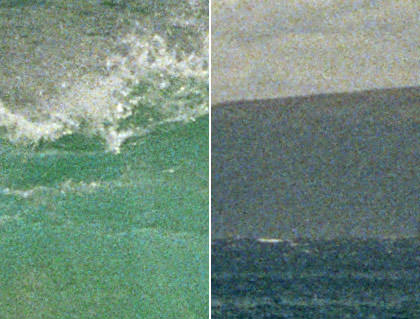 If DigMyPics is using any grain reduction software, I can't see it. Of course, I'm not sure if I really blame them... removing too much grain has an adverse effect on the image, and who is to say how much is too much? Again, it's not that I am really upset about this. I just wasn't planning on having to do the extra work.
In the end, I'm giving DigMyPics a "thumbs-up" for the job they did. They are quick, friendly, efficient, and do fairly decent work if your expectations are kept in check. As soon as I can save up some more money, I'll definitely be sending in another chunk of my life to be digitized.
Because heaven only knows I don't want to be without goofy, drunken pics like these on my PowerBook...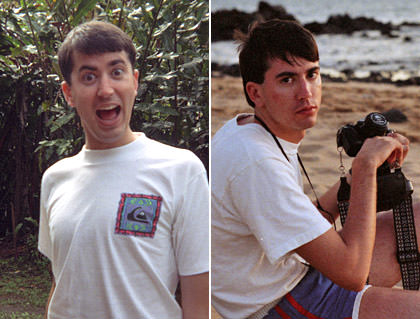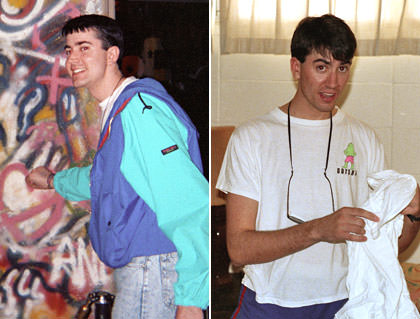 Now there's a blast from my past. TWENTY FRICKIN' YEARS PAST! And believe me when I tell you that these are the GOOD shots of me. I don't think I found a single image where I don't end up looking like a complete tool. Kind of sad, really.
Twenty years? Wow am I so totally old now.