I am growing increasingly frustrated with the iTunes Music Store. It is not living up to its potential (despite current success) and is destined for ultimate failure in today's global marketplace.
And, by "global marketplace" I am actually talking about "stealing music globally".
Most people probably expect me to go on an anti-DRM rant right now, because everybody and their dog are blogging about how much they hate Digital Rights Management, but I am not going to be one of those people.
Yes, I loathe the fact that the music I buy has DRM. Yes, I wish it didn't. Yes, I am frustrated by the restrictions it puts on what I can do with music that I legally purchase.
But I am realistic.
There is no way... NO WAY... that DRM is going away any time soon. Dumbass music company labels still have a stranglehold on music distribution and will not allow it. And when I hear people saying "well, if we just don't buy any music that has DRM, labels will stop using it" - I want to laugh my ass off. DRM is how these companies plan on maintaining their power in the digital age. Until these antiquated and idiotic bastions of a bygone era are kicked to the f#@%ing curb so that artists can control their OWN distribution... DRM is here to stay.
And don't think that I don't dream every night for all those powerful recording labels to finally DIE DIE DIE!!!!
And here's why...
I WANT TO BUY THE NEW F#@%ING A-HA ALBUM: ANALOGUE!!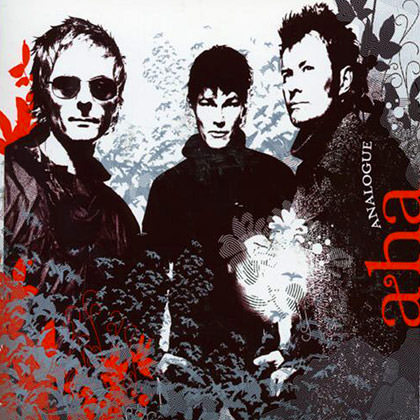 I mean, SHIT... COME ON!! IT WAS RELEASED ON NOVEMBER 14th for iTunes users in the UK!! Yet the only way I can get it here in the States is to purchase a $30 CD import.
Well, f#@% that.
Universal Music can kiss my ass.
Am I the only one who finds it ironic that a company calling itself "UNIVERSAL Music" doesn't release their shit UNIVERSALLY?
And yet I continue to see articles from "industry insiders" who are concerned that Apple has too much power in the music industry today. I find this funny because, to me at least, Apple doesn't have ENOUGH power over the music industry today. If they did, a-ha's entire music catalog would be available for purchase on the iTunes Music Store right now... no matter what country you live in. Such brilliant works as Lifelines and Major Earth, Minor Sky (the full album, not an EP) could be bought immediately, from the convenience of your own home, with the click of a mouse, for 99¢ a track.
So look, I will begrudgingly put up with the whole DRM fiasco that is forced upon me... yes, I am willing to be punished for legally buying my music... BUT AT LEAST LET ME F#@%ING BUY THE MUSIC I WANT TO BUY!
One day music company labels will be replaced by musician artist investors. These investors' sole function will be to support artists who do not have their own financing in return for a fair cut of any profits generated. They will not control or restrict an artist's distribution... on the contrary, they will do everything possible to encourage an expanding world market for the artist so that they can maximize their investment.
But people are going to have to stop buying CDs and Cassettes and Records first. Because the only way for instantaneous global distribution to happen is when everybody is buying their music digitally. Whether this be with iTunes, Napster, or even the artist's own web site... with or without DRM... the choice should be made by the people making the music, not some dumbass whose only thought is how to squeeze every last penny they can out of a "product" based on lucrative distribution licensing agreements.
Granted, this is an extremely simplistic scenario. There are numerous factors that have to be addressed (promotion is a biggie) that I haven't even touched on, but it's a start.
It also explains why I will be ignoring everybody screaming for me to boycott digital DRM music. I will continue to buy my music from the iTunes Music Store (when it's available) or steal it (until it IS available) and never purchase another f#@%ing CD ever again. I want no part of the blood that was spilled in order to get that toxic piece of plastic into my hands.
And once the almighty music labels are removed from the picture because they no longer control the music, something tells me that the artists making the decisions will be less likely to treat their fans like criminals (well, except for Metallica). DRM will, hopefully, implode as a result of cheap music being readily available and artists taking control of their own destiny (along with the profits their destiny generates). And if Apple or Napster won't let the artists sell their music without DRM, there are plenty of other places that will.
In the meanwhile, I will be waiting for the next "New Music Tuesday" email from Apple... hoping against hope that the music I am wanting to buy will actually be for sale.