All morning I've been glued to the WE Channel, which is the Women's Entertainment Channel. Most of the time, I avoid WE like the plague because, well, it's crap isn't it?
But today is different, because it's an English Royalty Marathon!
In an effort to make Americans feel better about the heinous state of our leadership, WE Channel has decided to drag out the glamorous scandals of Great Britain, with a stellar line-up of badly-produced, faux "documentaries" on the Royals. Every hour, there is another tantalizing glimpse into the life and times of The House of Windsor, each more delicious than the last! The titles alone are exciting enough to keep you watching...
Diana: Queen of Hearts
Princess Camilla: Winner Takes All
Prince William & Prince Harry: Prisoners of Celebrity
King Charles & Queen Camilla: Into the Unknown
Diana's Dresses
Harry: The Mysterious Prince
It's all very fascinating, and I've learned so much (Her Majesty The Queen prefers to take her breakfast served from Tupperware containers!). Ultimately, after my hours of research, I've come to the conclusion that I should be King...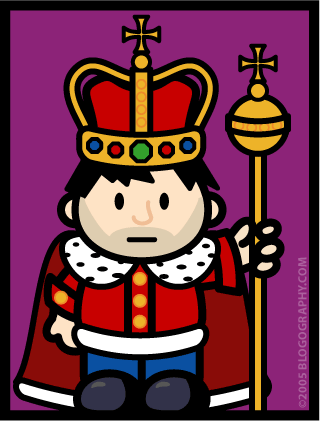 BOW BEFORE MY MAJESTY!
And my first act as King would be to behead blog plagiarists!
I've already said my peace on the subject... and am starting to see other bloggers venting their frustrations as well (including blogging giant Om Malik). But it's reaching ridiculous heights now, because people think that there is money to be made from blogging, and are desperate to swipe content so they can start raking in the big bucks (ha ha ha). Over Thanksgiving, I was made aware of somebody who decided to rape some of the cartoons I created here... even going so far as to remove copyrights and "improve" the coloring!
I guess on some level you could claim that these alterations of my stuff are "derivative works" which are allowed by my Creative Commons license... but only if you credit the original source (which he didn't) and do not use them for commercial purposes (which he did, as he was clearly using his blog to sell crap). Adding insult to injury, that second "thanks!" cartoon is only displayed here if you leave a comment... which means that the guy actually left me a comment before swiping my stuff! Hey, he may be a thief but, on the other hand, he's got enormous balls!
I've always wanted to end an entry by saying "enormous balls".