Tonight there's a new episode of Veronica Mars on, yet all I see is promos for somebody dying on Lost. How sad. I mean, they can kill off all the characters they want on Lost but it isn't going to change the fact that the show is spinning its wheels and nothing new is happening. It's just the same old stories and the same old mysteries and the same old plot twists being recycled for another season. Where is the payoff? How many times can they sneak Hurley's "bad numbers" into a scene and expect people to still care? I sure don't. Not anymore. I stopped watching weeks ago.
And speaking of Veronica Mars, what is going on with the Buffy The Vampire Slayer reunion there? First we get Alyson Hannigan (Willow) appearing as Logan's sister Trina Echolls...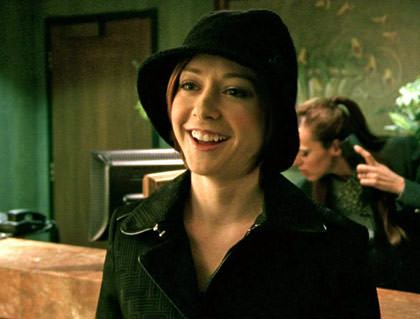 Then Charisma Carpenter (Cordelia) shows up as Dick and Beaver's delicious step-mom (and Logan's new lover!) Kendall Casablancas...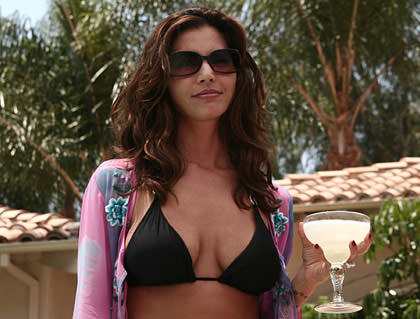 And now Buffy creator Joss Whedon Himself is guest starring. Not as a writer or director, but as an actor...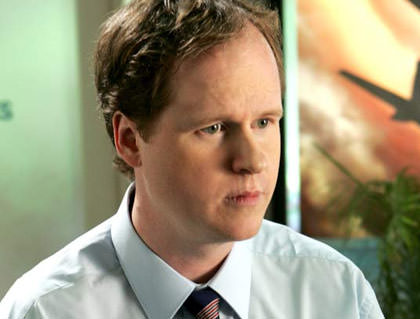 When a talent like Joss Whedon not only writes a rave review for Veronica Mars on DVD, calls it one of the best shows ever, AND decided to try acting on the show... what more do you need to know? Veronica Mars is the shit! Take a whiff tonight at 9:00pm on UPN! Unlike Lost, STUFF ACTUALLY HAPPENS!!
And in non-Veronica news...
In yesterday's entry I was whining about wanting a Giordano's pizza and my misery over having to settle for a crappy Cheese Pizza Hot Pocket instead. Some of you were nice enough to sympathize with my sad existence, and I thank you for your pity. Then I happened upon a comment that took me by surprise...
Okay. Get this: my wife grew up on Giordano's pizza that when she met me (a guy who thought PIzza Hut Deep Dish was the best pizza ever) she had Giordano's sent us pizza halfway across the country for a special occasion. Did you know they do that? For a price, they ship them half cooked in dry ice — then you finish the job at home in the oven. Works awesome, and you get that amazing Giordano's pizza.

Mmm, can't wait till Christmas to get back to Chi-town and eat myself up some of that goodness.

Posted by Pauly D on November 09, 2005
At first I was surprised at the thought of being able to order a REAL pizza from Girodano's here in the backwaters of Washington State... for a price... but then I followed the link for "Pauly D" and got the real surprise of the evening.
Here is my response to the above comment:
Okay. Get THIS: You are THE Paul Davidson!

I'd seen your comments here and added you to my list of blogs to check out. It never registered to me that you are the "Consumer Joe" guy until I visited your web site last night.

Your book Words for My Enjoyment was passed to me when I started helping out at the local library, and I loved it. I was going through a difficult time just then, and it was nice to find something to laugh about.

And now I find out that you have a blog where you are giving away your writing for free! Sweet!

But something is puzzling to me...

What in the heck are you doing reading my crappy blog? I'd think that to REAL writers like yourself, James Bow, and Cavan Terrill, and dozens of other bloggers far more talented than I) my blog would be absolute torture. I mean, doesn't it drive you crazy pouring over my dangling participles and never-ending ellipsises? Or my making plurals out of words like "ellipsis" that are already plural in their singular form? Or talking about "dangling participles" when I don't even know what they are? Is it some kind of self-inflicted torture? I heard once that good writers are tortured writers... is this what does it for you? Reading crappy blogs I mean? And, because I am really curious, how much alcohol do you have to consume before reading Blogography doesn't make you want to gouge your eyes out?

Oh well. Here you are. I suppose I should thank you for stopping by... but I feel like I should apologize or something instead, so here it goes.

I am so very, very sorry.
And for everybody else out there, stop reading this right now and go read this instead...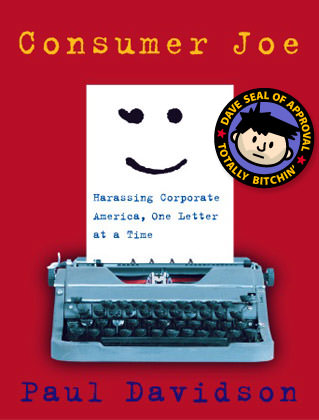 It is laugh-your-ass-off funny, and a mere $10.36 at Amazon! If you can't wait for a taste of Paul Davidson, then take a look at his blog: Words for My Enjoyment, which is far more entertaining than anything I write here.
And do NOT forget to watch Buffy Mastermind Joss Whedon make his acting debut on Veronica Mars tonight on UPN!