The very definition of irony: Crunching numbers with Microsoft Excel this morning and having the program crash on me. This triggers the "Microsoft Crash Reporter" which, big surprise, immediately crashes. Oddly enough, there was no crash reporter for the crash reporter. I guess when the crash reporter fails, you're on your own. My guess is Microsoft wouldn't have it any other way. After all, if MS Office crashes and there's nobody to report it... did it really crash at all?
This was pretty much an early indicator of how my entire day would go.
And how it would end.
Right now I am sitting down to dinner after a long day at work. Earlier I was having an email conversation with Kevin about Chicago when Giordano's Pizza came up. This delicious Chicago institution makes a mighty fine pie, and I was more than a little jealous that Kevin and his wife were getting to eat there tonight.
And all day long I couldn't get Giordano's Pizza out of my mind...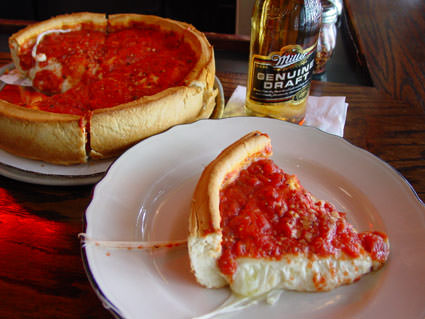 So when I finally got home, I decided to have pizza. And since Giordano's was a 2000 mile drive and 28 hours away, I had no choice but to pop a Cheese Pizza Hot Pocket in the microwave...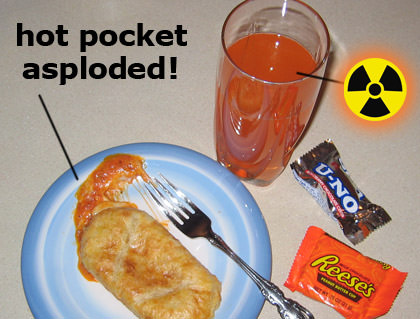 It's not quite the same experience.
But then again, a Hot Pocket is not quite pizza.
I decided to make up for it by having a glass of Orange Kool-Aid with a Reeses Peanut Butter Cup and a U-NO bar for dessert. Delicious!
Okay, not really. It's actually a pretty sad little dinner isn't it?
But don't feel sorry for me. Oh no. No tears in my Kool-Aid tonight. In just 21 days I'll be able to have a real Giordano's pizza all my own. w00t! (If you want to cheer me up in the meanwhile, why not stop by the Blogography Reader's Map and add a pin if you haven't already?).