I've been watching the Frappr (Friend Mapper) project with interest. It's a little raw around the edges, but there are some bloggers having a lot of fun with it (like Belinda over at Ninja Poodles), so I decided to start one so I can see where everybody comes from.
Just click here to visit the Blogography Map and add yourself! Feel free to list your blog or web site URL in your comments so that people can come visit you.
After that, you can browse the map (zooming in and out as needed) to see everybody's pins and then click on them to get details. Or you can click on a person's name in the list and be taking instantly to their pin and see where they are at in the world. Pretty nifty...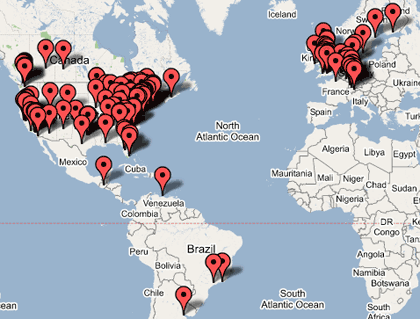 I was hoping to create Frappr maps to mark my travels, but there doesn't seem to be a way to create a "closed" map which allows only the administrator to add pins. I'll have to study the specs for Google Maps API so I can see what's involved with making one on my own.
Now, if you'll excuse me, I really must be getting back to catching up on my TiVo watching. A moment I have been dreaming of since the very first episode of The West Wing has finally come to pass: Toby's stupid, arrogant ass just got fired... I can't wait to see what else happened in the world of television while I was away.