I don't know why, but I always expect that holidays will somehow be special for me. Things that usually go wrong will go right. Problems will somehow solve themselves. Big piles of money will fall from the sky. Stuff like that.
It never happens, of course, but it doesn't hurt to hope.
Today being Halloween, my hopes were running high. This is a fun holiday, so there was no reason to expect anything except a Big Day of Fun. But then I woke up and saw this...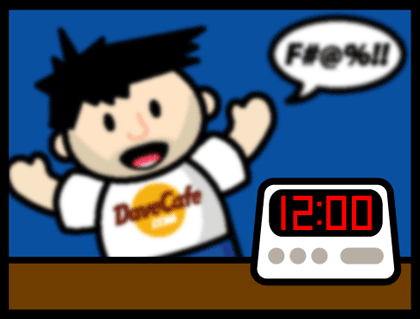 ... and knew that today was going to suck just as bad as every other day. Bad enough that the electricity kept going off and on all night, but the back-up battery in my alarm clock was dead too. Oh well. The good news is that I didn't get any trick-or-treaters tonight, so now I can eat all the Halloween candy myself. That kicks ass!
Thanks to everybody who has been adding themselves to my Blogography Reader's Map. I get a couple thousand unique visitors every day, and it's kind of cool seeing who you are and where y'all come from.
And now I'm off to pack my suitcase...