After lunch, I was half-way tempted to just go back to the hotel and relax, but that would be a total waste of such a beautiful day, so I decided to head north to Esquiline (this is the tallest of Rome's hills, and one of the poorer neighborhoods in the city). Unfortunately, unlike the major attractions, all the smaller churches close down for 3 or 4 hours at lunchtime, meaning that most places I went were closed. About the only thing open was Santa Maria Maggiore, a basilica so stunning that it pretty much made the entire trip worthwhile on its own...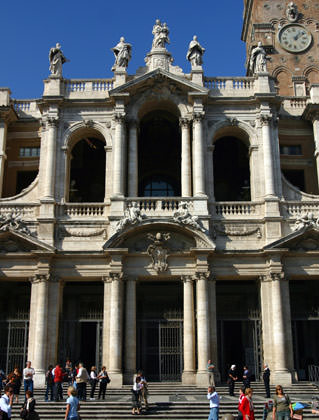 I dare say that the interior rivals St. Peter's at The Vatican for sheer beauty and opulence...
The stained glass window here is one of the prettiest I've seen outside the Rose Window from Notre Dame in Paris. The basilica was so dark, it was difficult to get a clear shot, but I was able to capture the bright colors that make it so beautiful...
Since San Pietro in Vincoli, home of Michelangelo's Moses statue was still closed, I headed to the Barberini Museum. Unfortunately, photography isn't permitted, because there were several famous works of art stashed here... including that shot of a portly Henry the VIII that's so well known.
On the way back to the hotel, I kept seeing more and more Cabiniere (Military Police), complete with riot gear, hanging out. It started at the Column of Marcus Aurelius...
... but really became noticeable once you reached the end of the Via del Corso to the Piazza Venezia...
Once I reached the front of Il Vittoriano, a massive demonstration (protest?) march was happening, so I guess that's what all the fuss is about...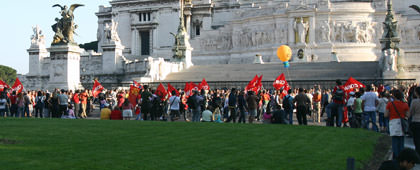 It was difficult to tell what the march was for, because all the signage seemed to be different... as if everybody was protesting about whatever was on their mind. It was very much a non-violent demonstration, so I have no idea why the Cabiniere were present in such depth (there were even helicopters hovering above). Probably just preventative measures, because who knows how riots get started?
Tomorrow is an early travel day, so that's enough adventuring for today...