A boring and uneventful drive over to the Seattle-Tacoma International Airport was salvaged by a fantastic flight on one of Northwest Airlines newer A330 aircraft, where everybody has their own personal entertainment center. Since this was a free flight, I was in coach, but there seemed to be slightly more room than usual on this plane, so I didn't mind much.
Thanks to dozens of movie choices and games, the flight to Amsterdam flew by (heh heh) in no time.
I got to see Batman Begins (great, seen it before), Fantastic Four (not nearly as bad as I had thought), War of the Worlds (interesting flick with a crap ending), March of the Penguins (cute, but I fast-forwarded through much of it), Bewitched (truly awful, and I fast-forwarded through practically all of it), plus play a few games of trivia and Bejeweled. I was still playing as the landing gear came down, and still can't figure out where the 9 hours went. THAT'S the way to fly international.
I was very nervous when I surfed by Apple's web site, curious to know what their "big announcement" was going to be and how much it was going to cost me. Turns out it won't cost me a thing. The new media features in the iMac G5 are nice, but I've already got both a Mac and a TV. The new video iPod isn't impressive enough to warrant purchase, and the new video offerings at the increasingly mis-named iTunes Music Store are shows I don't care about and are only being offered at a crappy 320x240 resolution. Sure that's fine for an iPod, but there are plenty of other media portables out there with bigger screens, bigger storage, and better resolution for me to pay $1.99 a pop for crummy low-res copies of Lost and Desperate Housewives. What in the heck is Apple thinking?!?
Oh well. I don't really have the money to buy a cool new toy from Apple just now. With that in mind, I suppose I should be glad that they didn't release a cool new toy I couldn't live without.
On a sadder note, a small bird seems to be trapped here inside Schiphol International Airport. He flies up to the skylight, realizes he can't get out, and then flies down to the railing and starts chirping... I am guessing in the hopes that some other bird will answer and he can go home (or at least get outside)...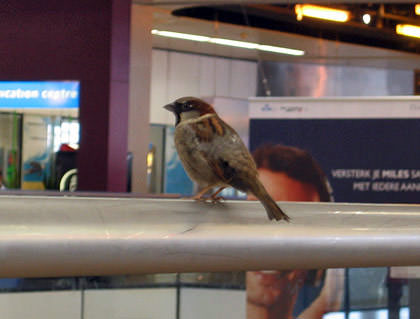 The poor little guy just flies from rail to rail calling out for help... it really is heartbreaking (I seem to be having March of the Penguins flashbacks here). Hopefully he gets it all figured out. I doubt a diet of leftover french fries and being trapped in an airport is a very good life for one who is meant to fly free.