I don't much care for schedules. The idea of spending my vacation glued to a clock and having every minute of every day planned out to every detail is not my idea of a vacation at all. I would much rather have a general idea of where I am going and what I want to see, then just fill in the specifics as I go.
I had exactly three goals while in Tuscany... 1) Visit the Academy Museum in Florence, so I could see the greatest sculpture in the known universe: Michelangelo's David. 2) Visit the Uffizi Gallery in Florence, one of the most highly regarded on the planet, to see such astounding works as Botticelli's Birth of Venus. 3) Wander out to the Tuscan countryside to take in the scenery and visit a few cities like Sienna or Lucca or San Gimignano or something.
Unfortunately, ALL these things require either timed reservations or some kind of tour. Otherwise you'll spend most of your time waiting in a queue or lost. So I decided to visit the galleries today, and save the countryside for tomorrow. Two days of being glued to the clock.
David is just as jaw-dropping stunning as you'd expect. How Michelangelo managed to inject such life into a block of stone, I cannot fathom. No words I use could adequately describe just how beautiful it is. No photograph can adequately capture the overwhelming presence such a work has. And since photography is forbidden, I suppose it's for the best. There is a copy of the original in front of the Uffizi Gallery, however...
The elegance and grace of the human body perfectly captured. Unfortunately, you'll never really get just how perfect from looking at a picture. Sorry, you'll just have to book a trip to Florence for that.
The Uffizi itself is nice enough, and contains a terrific assortment of art treasures... but, if you didn't purchase tickets in advance, it's not really worth the 3 to 4 hours of waiting it takes to enter. Since I already had reservations, it wasn't a problem. There's Botticelli's Birth of Venus, as expected, but also a more provacative The Venus of Urbino, which is worth a look (you naughty monkey!).
The city of Florence is more "interesting" than it is "beautiful," which is why I'm only here for the day, but there are a number of wonderful sights to be had... like the Duomo...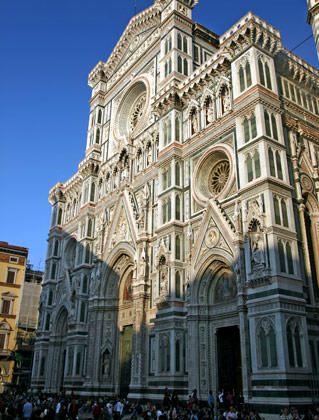 And the banks of the Arno...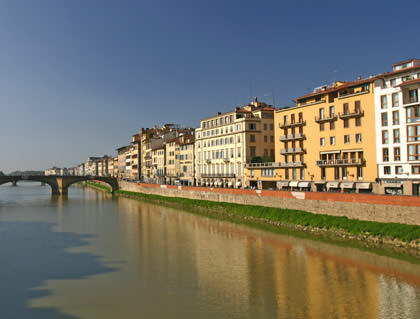 And all the cool buildings, which look so great against that cloudless blue sky...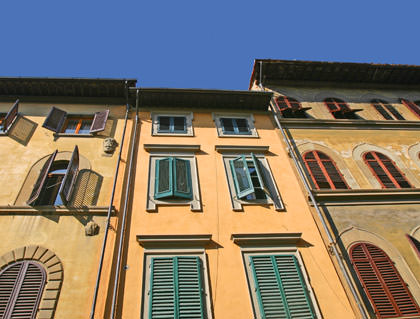 Anyway, after walking through the Central Market area and wandering through a few more museums (and eating entirely too much delicious pasta for dinner) my short stay in Firenze had come to an end.