A week ago, just as I was in the process of flying back from Hong Kong, James tagged me with an excellent meme: "If I Were a SuperHero." As a long-time fan and lover of comic books, I was duly excited, and spent the two hour layover I had in Japan coming up with a few ideas and sketching them out.
But then I couldn't stop.
All week, whenever I had a spare moment, I worked up dozens of heroes I thought would be a good fit for me. Pages and pages of them. Ultimately, I knew that something had to be done... my life was being destroyed over a meme. So I decided to narrow the choice down to my top-ten favorites...
...and make it into a collectible card game.
Since this is going to be a pretty big entry, I'll post the first half tonight, and the remaining five tomorrow. James, I hope you're happy!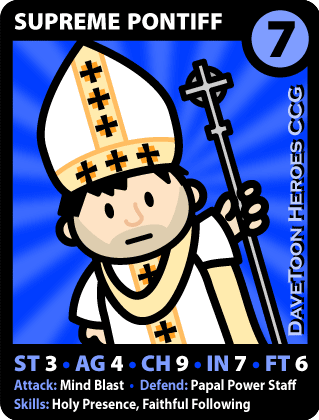 Supreme Pontiff. Elected to the head of the Catholic Church, Dave became Supreme Pontiff... The Ass-Kicking Pope! Armed with the psychic power to explode people's heads and backed by his faithful followers, Dave uses his Papal Power Staff to smite evil non-believers and people who piss him off. Weakness: flying spaghetti monsters.
Strength: 3, Agility: 4, Charisma: 9, Intelligence: 7, Fighting Ability: 6, POWER RATING: 7.
Dave-Devil. Consigned to hell by his right-wing, conservative, religious wacko Blogography readers, Dave quickly rose through the ranks of Satan's army to become Dave-Devil... The Unholy Terror! Able to crush his foes with his fists of flame, Dave-Devil has near-impervious skin, toughened by the fiery brimstone pits of hell itself! Armed with an evil glare and demonic laugh to paralyze his prey, Dave uses his demonic touch to burn his enemies to their very souls. Weakness: televangelists and holy water.
Strength: 7, Agility: 4, Charisma: 4, Intelligence: 2, Fighting Ability: 7, POWER RATING: 4.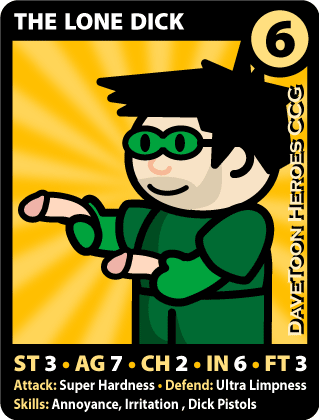 The Lone Dick. As one of the most irritating, annoying people on earth, Dave trained in the monasteries of Los Angeles to become The Lone Dick... a shining shaft of light in the fight against crime! Able to control his molecular structure, The Lone Dick can harden to become impenetrable... but, when nervous or upset, can become ultra-limp and slippery, making him impossible to catch. Dave blasts his foes with his dual Dick Pistols, which spray forth a viscous liquid to immobilize all who would dare oppose him. Weakness: nuns, Bea Arthur, fat chicks in spandex.
Strength: 3, Agility: 7, Charisma: 2, Intelligence: 6, Fighting Ability: 3, POWER RATING: 6.
Tube Dude. After becoming so addicted to watching television that he used to his superior intelligence to merge his brain with a TV set, Dave because Tube Dude... the televised avenger! Able to instantly recall complete episode guides for any television program ever aired with his satellite uplink, Dave uses this vast knowledge to defeat his foes with the power of television. Tube Dude attacks his opponents with his cable whip, and a nuclear-powered remote control that can emit a powerful laser force field. Weakness: dead batteries, stupid network executives with cancelation powers.
Strength: 3, Agility: 3, Charisma: 5, Intelligence: 8, Fighting Ability: 2, POWER RATING: 2.
Stalkerman. Finally succumbing to his overwhelming love of Elizabeth Hurley, Dave used his vast fortune to become Stalkerman... the teleporting scourge of the underworld! Able to instantly teleport to any location on earth, Dave uses his stalking skills to defeat those who would oppose his will for world domination (and to secretly stalk hottie movie stars). Stalkerman is all but undefeatable when using his flash-punch to pummel his enemies from afar. Weakness: paparazzi, tabloids, restraining orders.
Strength: 3, Agility: 9, Charisma: 9, Intelligence: 7, Fighting Ability: 8, POWER RATING: 8.
Tune in tomorrow for the rest... it only gets worse from here...