NEW! Google Blogs. Google has released a search tool exclusively for blogs. I guess that makes it "Bloggle?" I'm not very impressed... at least not yet. The search results often look totally random, even when sorted by date. In addition, problems I have with other search services haven't been fixed with Google. For instance, when I search for my name, my own blog doesn't show up in the results. This is despite the fact that my name appears in the sidebar of every single page here. WTF?
NEW! Bankruptcy. Today both Delta and Northwest filed for bankruptcy (or, to make it sound pretty they are calling it "restructuring"). This is kind of sad, because if our major airlines start crapping out, it's going to be really interesting trying to go anywhere when you have to string together a bunch of uncoordinated hops on small carriers. United Airlines, who has gone through bankruptcy itself in 2002, shows that surviving is possible... but operating conditions are getting progressively difficult. My guess is that fares are finally going to start climbing to levels where people are not going to be able to afford it. This, in turn, will cause airlines to shrink or die. Entire tourism industries to fold. More people to lose jobs. We are trapped in a downward spiral and nobody seems to be trying to find a way out. I'd say this is a job for our government but, well, you know...
NEW! Hero Cards. I've received quite a few emails wanting to know how to make hero cards. Just in case anybody is serious, click here to download a ZIP archive with a blank card in both Adobe Illustrator and GIF format. The GIF blank requires you to add your own text... the Illustrator files have text in place. Have fun.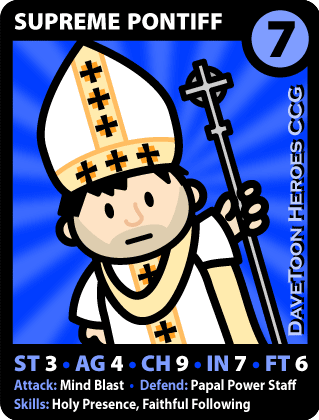 NEW! Television. I just realized that I'm going to be gone as most of the new television season is starting up. Even worse, my TiVo doesn't have room to record everything I'm wanting to see. Even worse than that, my TiVo appears to be dying and I can't find a dual-tuner replacement. And just when you think you can't get any worse, it's been revealed that TiVo is going to start allowing networks to limit how long you can store their shows and disallow you from transferring them to tapes or DVDs. As if TiVo couldn't suck any worse after having canceled their Mac version of TiVo2Go, now they are actively hostile towards their customers. Hopefully DirecTV will come up with another option soon, so I can drop TiVo and tell the dumbasses to bite me.
NEW! Transporter. I am a huge fan of the first The Transporter film. Jason Statham kicks major ass, and tears through a fight scene better than just about any white guy I've ever seen. And when you get down to it, fight scenes and killer car chases are what an action film is all about. It helped that the script was actually worth a crap, but I suppose I should have expected as much from Luc Besson. Keeping all this in mind, I was freaking out when The Transporter 2 was announced, and Statham and Besson were both back onboard. This time, the action has moved to Miami, and "Frank" is a hired as a fill-in driver for a powerful politician's son. But when the son is kidnapped, the plot grows a bit complicated, and more sinister motives are revealed. Is it as good as the first movie? Not even. There's too many slow moments that attempt some really forced drama, and a few of the stunts go way past the relm of believability. But, as far as action films go, it's still pretty good. If you were a fan of the original, it's worth a look just so long as you keep your expectations in check.
UPDATE: Bwaaaahh ha ha haaaah! Thanks Susie! I have no doubt that a bitch could kick my ass... it's been done too many times before...
UPDATE: Now Patrick has a really cool card up! I think "1EE7 H4X0R" would make for a sweet battle against "Tube Dude" by hacking his nuclear-powered remote control!
Movie Quotable of the Day:
"Transportation is a precise business."
Two-Days-Before-Yesterday's Answer:
Superman II
(198o) with Christopher Reeve and Gene Hackman.