I dropped by the Hard Rock for drinks with a fellow Hard Rocker living in the city, but he kindly suggested I might like some Chinese for my last dinner in Hong Kong. Turns out he knows of a vegetarian-friendly place, which is a pleasant surprise. I had pretty much resolved myself that I would never be able to eat any local foods here, because absolutely everything contains some form of meat, seafood, or fowl... or is cooked using the juices thereof.
But, before heading out, he thought there was something I might like to see across the street. "Oh, I've been to the Harbour Mall, I say." Undeterred he replied "Yes, I'm sure you have... but you've not seen what I am going to show you or else I am certain you would have written about it in your blog." Intrigued, I agree to brave the crowds at the same mall where I had wanted to eat at Prat Pret earlier this morning.
And, as we walk through the largest shopping center in all of Asia, suddenly I see what it was he had wanted me to see.
It's candy!
Loads and loads of candy. Here's a shop filled with nothing but chips and cookies and biscuits and sweets... most of it imported from Japan. This is a huge deal for me, because I live for this crap...
Fortunately, my friend is a patient guy, and indulges me to spend the next twenty minutes buying out the shop. I buy loads, even though I have no idea how I am going to get it all home. Most of it is familiar to me, but there are some unique treats I'm tempted into trying. $40 US later, I'm leaving with two bags of treats that will most likely be entirely consumed on my way home. Here's just one bag of it...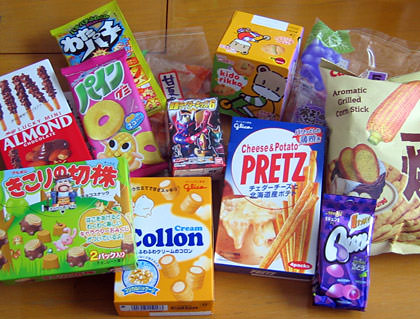 The biggest find is my much-craved "Lucky Mini Almond" which is the incredibly tasty Meiji version of the Japanese cookie treat known as "pocky" (pronounced "p'oh-kee"). I buy four boxes. They also had Meiji "Qun" (gushing gummy candy) in sour grape flavor, which is another favorite. It would seem I'll be flying home on a sugar-high.
As we leave the mall, I spy Frank Lampard staring at me...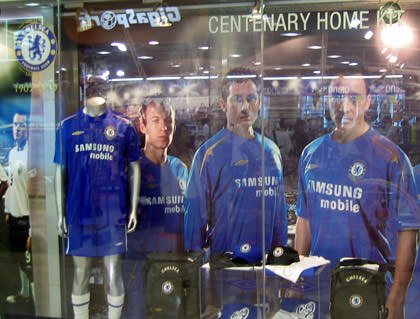 It's a Chelsea Football fan shop. Sure enough, the lads are in Chelsea blue, but I'm a bit puzzled as to why all their shirts say "Samsung Mobile" instead of "Emirates" (who I thought was the Chelsea sponsor). Perry?
Anyway, after dropping my booty of candy treasures off at the hotel, we're off to a spectacular dinner where I ate far more than I should have... I end up full to bursting. With no room for dessert, we head back to the Hard Rock so I can pick up a couple HRC souvenirs, and then walk around the neighborhood a bit to try and burn off all that food. Eventually, we're all caught up talking, and it's time for me to go back to the hotel and pack up for my early-morning flight.
And just like that, my Hong Kong trip has come to an end.