Putting aside the question of my reality, I backtracked to People's Square so I could visit the Shanghai Urban Planning Exhibition Center. It came highly recommended by a friend who had been to the city, so I decided to give it a try.
Turns out I was mighty glad I did, because the contents within are fascinating in a way that Judicial Confirmation Hearings are supposed to be, but aren't.
If nothing else, it certainly is a cool building to look at...
The highlight of the entire complex is a massively huge 1/500th scale model of Shanghai that boggles the mind. Even with my wide-angle lens, there was just no fitting it into the frame, because it goes on forever...
With something this size, you'd think that they would skimp on the details. You would be wrong. Everything is faithfully reproduced, right down to the smallest detail. In addition, there are lighting cues to explain the layout of the city, all while a cute guide (with the most pleasant speaking voice I have ever heard) runs you through the model...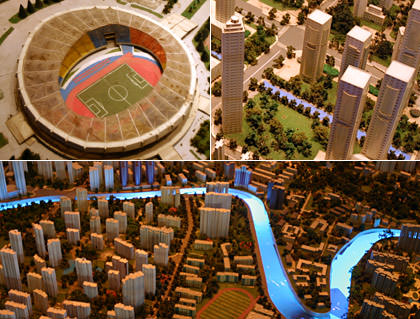 Interestingly enough, the model not only reflects the current state of the city, but includes future plans as well. The building I went up on Sunday, Jin Mao Tower, is the tallest building in China. But the model reveals that two taller buildings will eventually flank it on either side...
As noon approached, I needed to get back to the hotel so I could get some work done, but I decided to take a little detour first.
When I landed in Shanghai on Saturday night, I was looking forward to taking the MagLev Train into the city. Unfortunately, we arrived so late that the train had long-since shut down for the day. Not one to pass up a ride on the fastest train in the known universe, I figured today was the day. What's cool about the train, other than the fact that you'll be traveling at 430km per hour (267mph), is that you seem to defy gravity while doing it. Magnetic repulsion means that the train never touches the tracks, providing a frictionless run. It's pretty sweet-looking too...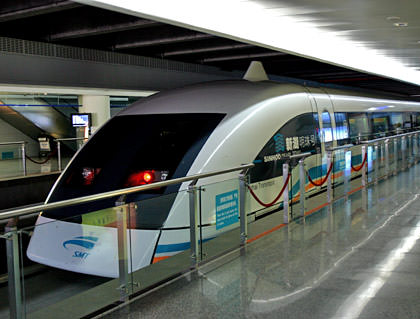 I expected the ride to be smooth to the point of being unnoticeable but, unlike the elevator in Jin Mao Tower (where you cannot sense motion), you do get buffeted around a bit. Still, it's kind of a cool thing to have done. I bought a same-day-return fare in the comfy "VIP" section, which was completely empty...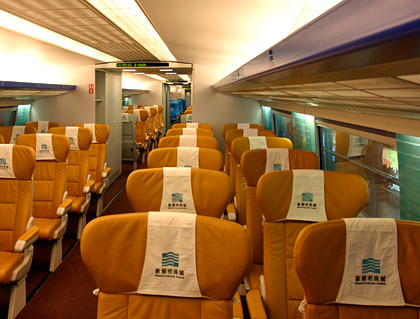 The entire 30km journey takes just under 8 minutes. Apparently the same journey takes about 40 minutes by taxi...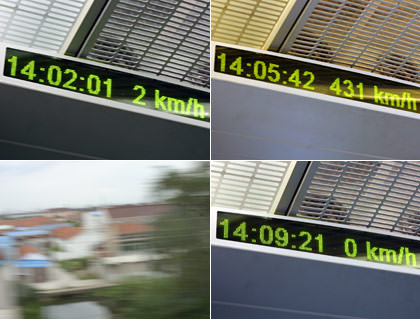 The Shinkansen "Bullet Train" in Japan was my previous fasten train ride... at 210km per hour, making this one twice as fast. Kind of makes me wonder what the theoretical limit for mass-transit actually is.
And on that note... this ends my last day in Shanghai.