After my near-death experience getting to the Temple of the Jade Buddha, the ride back into the city center was positively tame. Since I ran out of time on Sunday, I decided to drop by the Shanghai Museum of Art to see the current installation. The museum itself is relatively small... just two rooms with a connecting hallway. There were maybe fifty paintings in one room and 35 in the other.
Turns out that what the museum lacks in quantity, it more than makes up for in quality.
The current showing was for a brush artist named Wu Guanzhong, and it was remarkable. Stunning really. I couldn't afford it, but I ended up buying the show book because there was no way I could leave without it.
As I was leaving, I noticed an interesting sign out front...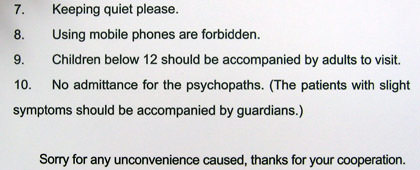 I had seen a similar sign forbidding psychos in taxis (apparently this excludes the driver), but dismissed it. When I started paying attention, I noticed that signs forbidding psychopaths are actually quite common. This lead me to wonder if psychos are wandering the streets of Shanghai or something (just like New York!).
Once I had finished up at the museum, I was starting to get hungry. Noting a McDonalds down the street, I decided to see if they had the miraculously yummy fried pies that are prevalent at all McDonalds except those in the USA, where we get the shitty baked crap instead. Sure enough, fried pies!! As I sat down with my pies, fries, and a Coke, I noticed this creepy painting directly opposite me...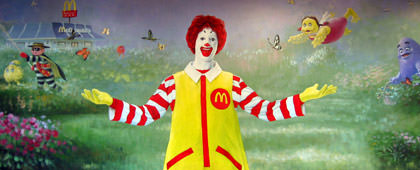 "Blessed is he who eats unto Him."
My fear of clowns is well documented, but this goes beyond fear... in kind of a Norman-Bates-Psycho-Not-Allowed-In-The-Museum kind of way. I'm going to be having nightmares for months. To calm my nerves, I decided to go snack shopping at the mini-mart across the street. Who knows what cool and exotic chips (crisps) and cookies (biscuits) I might find? Turns out there wasn't much, but the chip selection was rather interesting...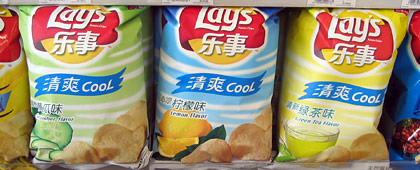 Among the choices... Cool Cucumber Flavor, Cool Lemon Flavor, Cool Green Tea Flavor, American-Style Original, Swiss Cheese Flavor, Italian Red Meat Flavor, and Texas Grilled BBQ Flavor. I tried the Lemon (yargh!) and Swiss Cheese (yum!) varieties, and a box of Pocky for good measure. I then hailed another taxi so I could make my way back Pudong-side. The driver was terrific, but the advertising is what caught my attention...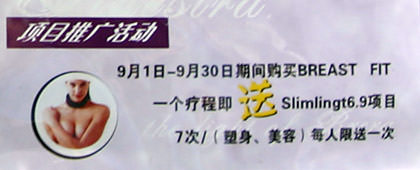 I think it's basically telling you that if your breasts don't fit in your dress, then visit La Zephire Beauty Management, and they'll fix you right up. I don't need the breast-job (or do I?), but was compelled to take a look at the web site they provided.
This was quite revealing.
Turns out that Heather Graham is a client and spokesmodel for their "Abundant Chest" program! I knew they were fake!!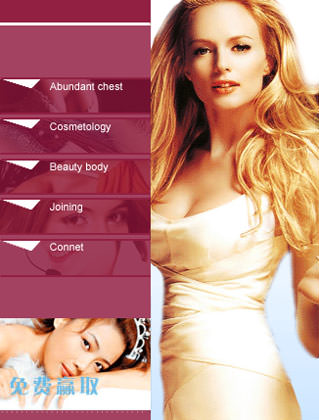 What I was NOT prepared for was finding out that Jennifer Aniston was also a client and spokesmodel...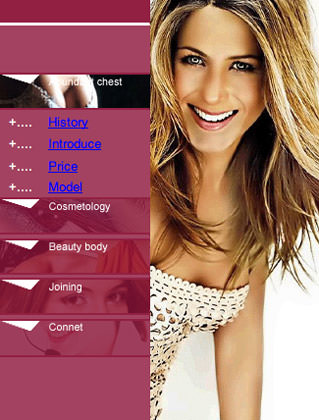 GAAAAH! Say it's not so! If Jennifer Aniston can have fake breasts, how can we truly know if ANYTHING is real? Who am I? What am I doing here? Am I real? Or is this all in my head? Leave it to Jennifer Aniston's breasts to make me finally lose my fragile grip on reality...