Wow. I'm back at the hotel watching the news and have just learned that there's a dust storm so severe across central Washington that they've actually closed I-90 between Ritzville and Moses Lake. They're reporting that there's been several accidents due to high winds and zero visibility. The photos they're showing are quite shocking. It started as a brown cloud on the horizon then, within minutes, everything was enveloped and was plunged into darkness... the sun was blotted out of the sky.
This is really bizarre, because the storm is exactly half-way between Spokane and my home in Cashmere, Had I left at 6:00 as I originally planned, I would have been caught right in the middle of it. I guess that I should be thankful I had to stick around and get some work taken care of?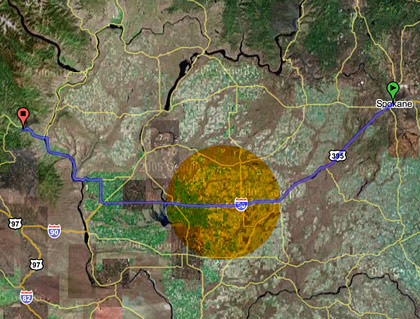 Today must be a day for strange weather (perhaps caused by the raging wildfires to the south)... after being scorching-hot yesterday and this morning, Spokane had a short spell of torrential rains that had storm warnings in effect for a few hours. Maybe the world is about to end and I didn't get the memo? Hopefully the sand storm will have blown over (heh heh) and the highway will be re-opened in the morning.
Movie Quotable of the Day:
"Sir, I'm the president of the electronics club, the mathematics club, and the chess club... if there is a bigger nerd in here, please point him out."
Day-Before-Yesterday's Answer:
Dave
(1993) with Kevin Kline and Sigourney Weaver.