I am becoming more and more convinced that the re-imagined Battlestar Galactica is not only one of the best science-fiction epics ever created, but perhaps once of the best TV shows ever. It's a bizarre hybrid of smart sci-fi and character-driven drama that lapses into absurd moments of current-day-earth reality at a moment's notice. This is both exciting and frustrating at the same time, but it's hard to argue with the results.
Until the new television season starts, it's the best show you're probably not watching.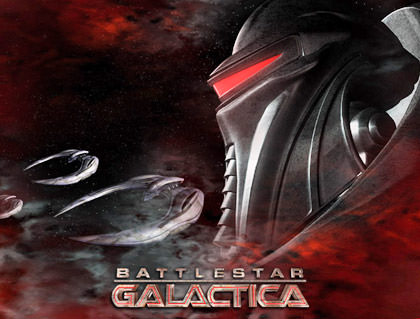 In some respects, it's a voyeuristic guilty pleasure because so many of the characters are deeply flawed. Watching them fumble through their trials is fascinating entertainment which is filled with never-ending surprises. I don't think I am alone in feeling just a little bit dirty for having pried into their lives.
Where the show stumbles is in its failure to maintain a consistent "world" in which these characters can exist. Vehicles on other planets are just every-day earth cars, complete with license plates. Characters have nick-names like "hot dog" where hot dogs don't exist. Everyday US English idioms are commonplace, even though these people have never been to earth. Sure it helps the average viewer relate better to the show, but it's poor science fiction that is otherwise so brilliant in execution. On top of all that, soldiers aboard the Galactica are killed off at alarming rate, making you wonder when they're going to run out. How many can there be?
On the other hand, the acting, stories, and special effects are shockingly good... more than making up for any shortcomings. If that weren't enough, Cylons are bad-ass (or, in the case of Number Six and Boomer, bad-ass sexy!).
And now, from the opposite end of the sexy spectrum, comes the Dell XPS laptop. I keep seeing commercials where some idiot in a coffee shop sees another guy using the XPS and keeps trying to touch it because he thinks that it's so cool and sexy. This is baffling because, to me at least, the "XPS" must stand for "eXcruciatingly ugly Piece of Shit"! Just look at it!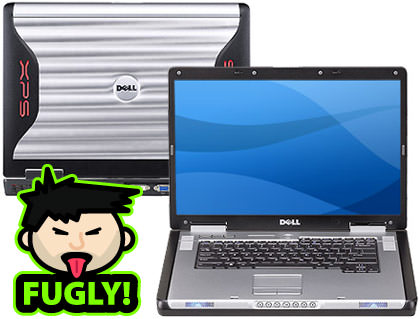 You know when you go to the luggage store how there are three kinds of luggage you can buy? First there's the really amazing-looking expensive stuff that you can't afford. Then there's the average-priced nice-looking stuff that you settle for. And finally there's the cheap-ass-looking crap that you'd be embarrassed to be seen with? Well, Dell went for the cheap-ass embarrassing luggage look here, and not even the MacOS-inspired background on the desktop can save it.
The aluminum shed siding alone is hysterical, but the retro-futuristic lettering and clutzy duo-tone color scheme just pushes it way over the top. It looks like something a redneck would put out on the porch along with the refrigerator and a recliner! As if using Windows wasn't painful enough, Dell expects you to lug this pile of crap around with you? Jonathan Ive must be laughing his ass off thinking "THIS is my competition?!?".
But I'm just a Mac snob, so what do I know. Perhaps this is what the kids are considering "cool" now-a-days.
(If that's really true, I weep for the future)
Movie Quotable of the Day: "Jim, Jack, Johnny Red, Johnny Black, and Jose... all my favorite men. You can have it any way you like it, as long as it comes in a shot glass!"
Day-Before-Yesterday's Answer: Mousehunt (1997) with Nathan Lane and Vicki Lewis.