I finally got around to watching Jean-Pierre Jeunet's Un long dimanche de fiançailles (A Very Long Engagement) starring the ever-radiant Audrey Tautou. I can't image the pressure of following up his previous success with Tautou (the incredible Le Fabuleux destin d'Amélie Poulain), but Jeunet somehow managed to deliver.
Engagement takes place after World War I, as Mathilde (Tautou) begins a search for her fiance, who disappeared during the war. She's been told he is dead but feels that if he had died, she would somehow know it. And since his body hasn't been uncovered, she refuses to believe it. Her search takes her on a fascinating journey that uncovers secrets, lies, danger, and a mystery...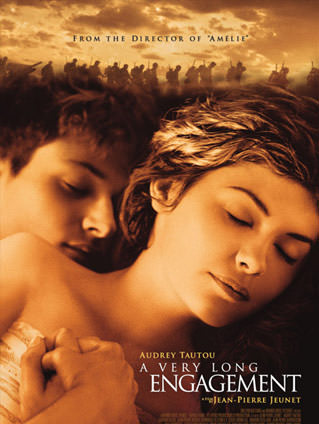 The pacing of the 2 hours and 13 minutes is deliberately slow but, because the story was so beautifully shot, I never minded a bit. In addition, there were stunning special effects woven into the visuals which means there is always something incredible to see. This being Jeunet there were other quirky treats along the way, including a cameo by Jodie Foster (speaking flawless French), that was just icing on the cake.
By the time the movie had ended I was ready to watch the entire film again. And, if I had another 2-1/2 hours to spare, I would have. I've never had a desire to learn French, but if Jeneut continues to crank out these masterpieces I may have to start. The temptation to watch his work without subtitles is simply too great.
As for Tautou, she is starring with Tom Hanks in The Da Vinci Code come next year, so at least there will be something nice to look at if they screw up the book adaptation.
Movie Quotable of the Day: "A woman without love wilts like a flower without sun."
Day-Before-Yesterday's Answer: The Punisher (2004) with Thomas Jane and John Travolta.