Oooh! As a long-time roller coaster fan, I've always wanted to play the game "Roller Coaster Tycoon" where you get to design your own roller coasters, and then run them at an amusement park. Unfortunately, it's never been available for the Macintosh. Until now (well, November, actually). From what I understand, you can view your coaster design from every conceivable angle, and see how your customers react to riding it. Make it too bland, and people will be bored and stay away. Make it too vicious, and people will get sick and throw up. Hopefully, you can also make coasters that crash and hurl people off the track, because there's a sadistic side of me that would really get off on something like that. I can't wait.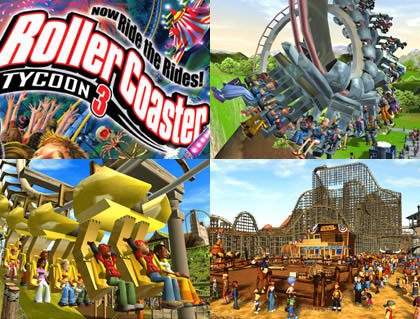 In other amusing news lighting up the blogosphere, Jacqueline Mackie Paisly Passey is looking for a "travel companion and lover" to accompany her on a world trek, beginning in Costa Rica, for up to a year. I was rather intrigued, because it's not like she's totally unattractive or anything... but then I found out I had to actually bring my own money for the trip, and that kind of killed the idea of getting me a sugar-momma real quick. If I am going to have to pay, I'm afraid it is ME who will be dictating the requirements of my "travel partner with benefits"...
If you want to go shopping, I am not required to tag along.
If you want me to like your friends, they have to at least be civil to me.
You are not allowed to throw stuff at my head for imagined slights.
No cutting off my penis while I sleep either. That's just wrong!
If you go all psycho, it is understood I will be ditching your crazy ass.
If some hot foreign babe should somehow be attracted to me, I get to hit that.
No political talk in bed.
I am not buying tampons. Ever.
Call me sexist, but shaved legs and pits are a must, and NOT with my razor.
If you don't like how I dress, feel free to buy me clothes, but I get final approval.
And if anything requires ironing, that's all you, baby.
I ride a motorcycle. If you bitch about it, I'll be driving it over your harpy ass.
Anything you take of mine during the break-up I will be taking back... BY WHATEVER MEANS NECESSARY!
Hmmm... something tells me I should stop now before I say something that will have my female readership calling for my balls (and not in the good way).