After working in Lancaster and Harrisburg all day, I decided to do something naughty. Something I haven't done before.
With great nervousness I approached the Hershey Highway. I have never been this route before, and didn't quite know what to do. As I first entered, there was very little resistance. The route was smooth... a pleasure to drive. But then things started tensing up, and I ran into some heavy blockage. It was a real mess, and I didn't know if I was going to be able to get out of it. But I was determined, so I thrust onward down that brown-stained road*. Suddenly, all obstructions were gone and it was smooth sailing to the climax of my journey...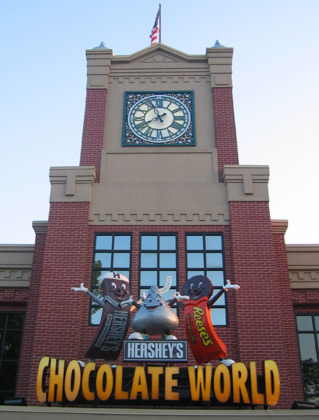 HersheyPark is a pretty straight-forward coaster park that's very clean and well-maintained, but under-staffed and difficult to navigate. They desperately need better signage to help you make your way around the park (the maps they provide are practically useless). Half the time I could SEE the ride I wanted to go on, but then wasted precious minutes trying to figure out where I am supposed to go to ride it. The worst part BY FAR is that they do not have enough fans/mist-sprayers/canopies/shade to help keep you cool. Many lines are out in the full sun, where you will melt in the summer heat. Even worse, rides that did have fans were near-useless because some units were turned off or broken.
Admission is normally $39.95, but since I arrived after 5:00, I got in for just $21.95. The park is open until 10:00pm, but after entering at 5:30, I had ridden all the coasters (except the "Roller Soaker" which looked lame) by 8:45... giving me excellent value for my money. The park was full, but lines were short because everybody was eating dinner I guess?
As a "theme park" it isn't as inspired or clever as Disney-World. As a "coaster park" it is not as thrilling as Universal Studio's Islands of Adventure. But, overall, I was very happy to have visited, and recommend it if you are in the area. If they would hire more staff to manage the queues in a more orderly manner, provide better shade and/or fans for the lines, and make better signs, HersheyPark would be a slam-dunk.
For my fellow coaster aficionados (or anybody else who cares), here's a quick recap of the rides...
The Great Bear. A nice inverted hanging coaster that has good speed and twists... but is so short! Could have been a killer ride if it were longer.
The Comet. An older wooden coaster that's a fairly tame, but entertaining ride.
Superdooperlooper. A nice steel coaster ride of average complexity, but my long legs were jammed against the seat in front, making for a painful run.
Lightning Racers. An awesome dueling wooden coasters run that comes close to Universal's "Dueling Dragons" for entertainment value, and is even better for the thrill of the race... often times, you are twisting in and out of each other, and racing throughout the run neck-and-neck! My favorite ride of the entire park.
The Wildcat. Very sweet wooden coaster that belies it's small footprint.
Wild Mouse. A fun, mouse-track 4-seater coaster that features the hair-pin turns you'd expect from a Wild Mouse coaster... along with a few drops and surprises you wouldn't expect.
Storm Runner. This is an "accelerator" coaster that launches you forward at 75 miles per hour, then runs you through a short gauntlet of inverted thrills. No match for my favorite coaster ever (another accelerator: "The Incredible Hulk" at Universal's Islands of Adenture), but still a good thrill ride.
Trailblazer. LAME!! So lame. I think this must be meant for kids?
Sidewinder. This is one of those boomerang coasters that packs a lot of turns in a small area. Like the Superdooperlooper, the seating is very cramped (painful even). Not really my cup of tea (boomerangs make me nauseous) but well done for what it is.
After you've finished at the park, you can stop at "World of Hershey" for an informative (yet oh so lame) "ride" that explains the chocolate-making process. It's not very well done, but you do get a free piece of candy at the end. After that, there's a nice food court where you can eat dinner, but I just had a carton of Hershey's Chocolate Milk and some Hershey's Chocolate Chip Cookies and called it a day.
Tomorrow is a little better for me, because I can get a full night's sleep and don't have to be to work until 9:00am. Then it's time to head back home (again) around 2:00.
* Yes, the Hershey Highway actually is colored chocolate brown in most places! It's kind of cool, and reminds me of the red roads in Zion National Park.