Okay then. This is Blogography entry #1000.
And I don't know what to make of that.
When I began this blog (after two previous failures) I made a commitment to myself that I wouldn't start again unless I could commit to 1000 entries. At that point I figured I'd either quit blogging or move on to something different. Now that the promise to myself has been fulfilled, what does it really mean?

When I look around at other personal blogs, I notice a trend to post less and less (with some people quitting altogether). I don't think that this means blogging is in a downward spiral, I just think it means that people are getting burned out writing in them. But I'm not burnt out at all. Writing an entry every day is a habit that I'm not sure I want to break. Most entries only take a few minutes of my time (though if I draw a cartoon or have a rant going, it can take a lot longer) so it's not like maintaining Blogography is an overwhelming burden or anything.
And it's not like people have stopped reading it either...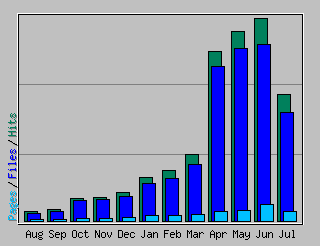 At first I thought it was just Google search results that was driving up my counts, but a closer look at my stats show this is not the case. The hits on my "home page" and RSS feed increase every week, so people are actually coming here intentionally (as opposed to looking for porn or something). I don't think I will ever know what makes Blogography worthy of this kind of attention (especially since only the tiniest fraction of my visitors leave comments), but I am certainly touched that so many people enjoy reading what I have to say here.
In the end, "1000" is just a number, and I don't anticipate anything changing in the immediate future. But now that the milestone has passed, there are a few things I am CONTEMPLATING...
Quitting. Sure I don't spend a lot of time on this blog (I can't, really), but it does take time away from other things I could be doing. It might not happen today, but perhaps tomorrow or next week. Certainly when it stops being fun.
Slowing. I write every single day because once you skip a day, it becomes easier and easier to keep skipping. When I start skipping days, Blogography is doomed. I think I'd rather just quit outright rather than withering away on a slow decline.
Changing. In the back of my mind, I was seriously hoping that "Dave's Bad-Ass Blogography Show" would prove interesting enough that I would eventually stop writing altogether and switch to a weekly "tooncast" instead. But since the first show is nowhere near ready for release, I just don't know yet. I would certainly like a change of pace.
Nothing. Just ignore the number 1000, and keep going for a while.
And here's a few things I will actually be DOING...
Killing off the FridayQ. Memes are kind of dying off, and it's just not worth it to me to keep it up when nobody cares. Tomorrow's FridayQ will be the last one for the foreseeable future. Thanks to everybody who has participated and supported FridayQ all this time.
Upgrading to Movable Type 3.2. And probably killing off TrackBacks at the same time. The spam they generate every day is not worth the effort. Congratulations to all the dumb-ass, sack-licking TrackBack spammers out there who have succeeded in destroying a once-useful blogging community tool... I hope you f#@%ing die.
Updating the layout. Now that I know I'm not quitting just now, I will probably be making some adjustments to things that have been bothering me... particularly in the button tabs and navigations.
Dropping RSS. Now that the Atom spec has finally reached 1.0, I will be dropping RSS as a syndication option. In order to conserve bandwidth, I may switch to excerpts instead of full entries in the feed as well. This is not something I want to do, but I may have to. Sometimes people may not be interested in an entry I write, yet I serve up the entire thing to them anyway... by serving only to those who really want to read it, I'm hoping I can save some precious bandwidth.
Release BloggerPeeps. I've finished the widget, I just haven't had time to finish the site. Since I'm home for a bit after this trip is through, I should have time to finish up.
Anyway, to all of you who visit this happy place... thanks! As always, your comments are welcome and, who knows, there may just be another 1000 entries to come.
Movie Quotable of the Day:
"Without your space helmet, Dave, you're going to find that rather difficult..."
Yesterday's Answer:
Witness
(1985) with Harrison Ford and Kelly McGillis.