The wait to see Boston's Museum of Fine Arts was actually worth it. I was pleasantly surprised at the depth of their collection, particularly in Egyptian artifacts, which is magnificent. It was all I could do to tear myself away from the place after three rushed hours, and I could have easily spent the entire day there.
But alas, the rest of New England was calling, so I said a quick goodbye to my friend as she left for a meeting, and then headed northward to Kittery, Maine... then westward to Manchester, New Hampshire... continued on to Brattleboro, Vermont... and then back to where I started in Hartford, Connecticut. That's 484 miles of big fun, according to my rental car receipt. It sounds kind of impressive, until I realized that the entirety of the trip is the equivalent of driving from my home town of Cashmere, to the Tri-Cities, then to Spokane, and then back... which is not so impressive after all. Washington State is bigger than I give it credit for...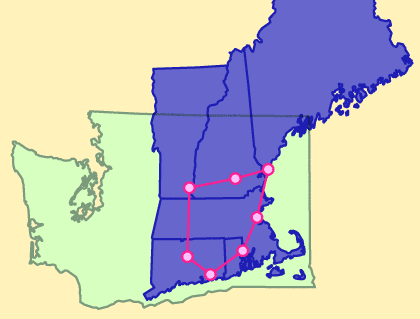 The good news is that I can now fill in a bit more of my "Visited States" map (including my trip to Iowa earlier this week)...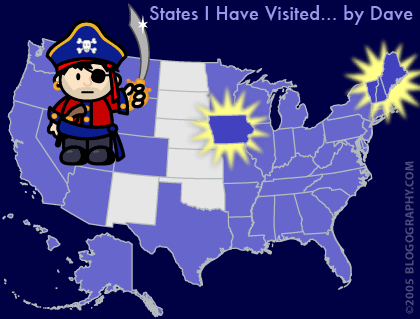 Just six more to go!. I think I will see about flying into North Dakota in September 2006, and then driving straight down through SD, NE, KS, and OK... then swerve into New Mexico on the 27th, just in time for a wedding. I could easily drive it in a couple of days, but there are some things I'd like to see along the way, so I might just plan on making a week of it. Then I can add "Visit All 50 States" to my List of Things to do Before I Die.
Tomorrow is a nothing day. My flight doesn't leave until late afternoon, and I don't have anything to do until then except stay in my hotel room and catch up on some work. Sigh. I should have kept my rental car for one more day and taken a quick trip down to New Haven. Live and learn.