Connecticut is very small. Tiny, in fact. I dare say that from Hartford, you can reach any other place in the State in under an hour. As an example, a trip to the Foxwoods casino resort area was a mere 42 minutes. This is kind of disturbing to somebody like me who is from a State that would take a full day to drive across. I'd imagine it would be even stranger to somebody from Texas.
Anyway, the reason for my trip was to visit the Hard Rock Cafe Foxwoods (#106 on my list), and that's exactly what I did. Overall, it's a nicely appointed cafe with a beautiful vaulted ceiling and nifty stone accents...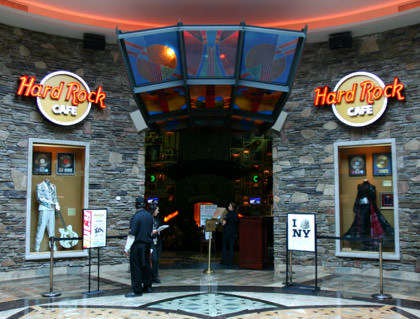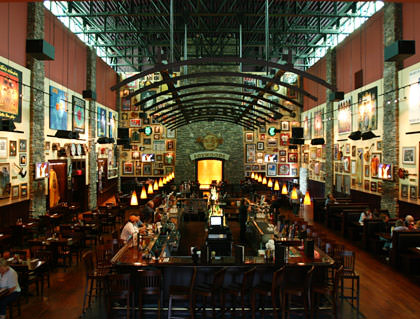 Sadly, I worry about the success of this cafe when I arrive at lunch-time to find it mostly empty. And when I look around at the people visiting the casino complex, I know why... the demographic is mostly elderly people. There's walkers, wheelchairs, canes, and the smell of Ben Gay at every turn. Needless to say, these are not the Hard Rock's target audience. The people running the cheap all-you-can-eat buffet, however, have a line a mile long outside of their door. Bummer. If you have your heart set on seeing this one, I wouldn't put it off.
From Foxwoods, I continued onward to the picturesque city of Mystic, Connecticut and the famous Mystic Seaport, where it was hot and muggy...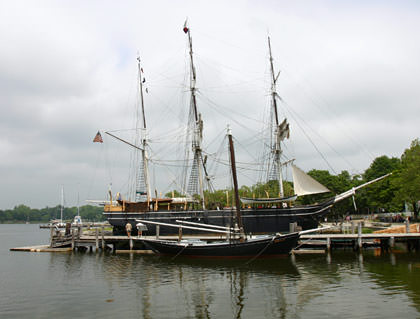 My plan was to visit both the seaport museum complex and the aquarium. But after I had to pay $17... yes, SEVENTEEN f#@%ING DOLLARS, to get into the museum... I had no desire to dump any more of my hard-earned cash in the city. I still can't get over the fact that they charge such an outrageous amount of money to wander around old buildings and look at a couple of ships. There's no rides or shows or anything else to make it worth it. At MOST, I would have paid $7 for what little you get. If only I had known, I would have skipped this rip-off "attraction" entirely.
After the disappointment at Mystic (such a cool name for a city!), I turn north to Boston. But before you can get to Massachusetts, you have to go through Rhode Island first. And the thing about Rhode Island is that it is very small. Minute. Minuscule. Teeny. Wee. Once I hit the Rhode Island border, it was a mere 32 minutes before I had exited through Providence at the other end. Now THAT'S small. I dunno. Maybe it was more impressive back in the days when people rode in horse and buggies instead of cars blazing along at 80 miles per hour.
Movie Quotable of the Day:
"Mom... do you want my green stuff?"
Day-Before Yesterday's Answer:
Field of Dreams
(1989) with Kevin Costner and James Earl Jones.