I think that I might be dead. I'm too tired to know for certain. As with so many things in life, It's all Mr. Jerz's fault.
He has another podcast up, and proves that his earlier efforts were not a fluke. It doesn't matter that it's 1:30am and I haven't slept in days, I am compelled to listen. The guy has talent, and I'm not just saying that because he gives me a shout-out... and certainly not because he tears into my favorite movie ever. It's because this is one of those rare podcasters that's actually worth your valuable time. Go take a listen, and then send Jerz some encouragement so we won't have to wait two friggin' months for the next one.
Anyway, I've left Hartford (Wisconsin) for Hartford (Connecticut) and two glorious days of vacation (well, kind of... I'll still be working evenings). The journey was mostly uneventful, except 3 hours at Milwaukee's General Mitchell International Airport without internet access...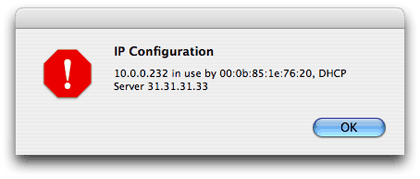 Great. Some network monkey screwed the configuration, and now I have no idea what's going on in the world. For all I know, Cavan's finished a new book and Kazza's married with four kids. It's time to admit that I have a serious internet addiction.
Oh well, it was probably grossly over-priced anyway. At least my Mac PowerBook tells me WHY it's not working. The Windows-sufferers around me get no explanation, so they're all like "WTF? I got full signal!! WHY ISN'T IT WORKING?!?" I ignore their constant pestering ("IS YOUR'S WORKING? DO YOU HAVE INTERNET?") which is easy when you've got an iPod drowning them out. It's so much easier than pretending you don't understand English.
Oh crap. I forgot I'm on East Coast time, so my clock is wrong... it's not 11:30pm, it's 2:30am! How can I be so tired, and yet not be sleepy? My brain feels numb. Somebody poke it with a stick if I forget to keep breathing.