When I decided to shut down the FridayQ, I really didn't think twice about it. I was looking to cut back on my extraneous activities, and felt it was the logical choice since memes have been kind of dying off anyway. To be honest, I didn't think anybody would care, because so few people were participating at the end.
The problem is that the FridayQ was always written weeks in advance. So the smarter thing to do would have been to hold off until after I had run out of material, THEN close it down. Oh well. What's done is done.
Today's FridayQ was going to be about things you enjoy and you don't know why. I concocted it after channel-surfing one day and realizing that, despite the fact that I LOATHE country music, I am a huge fan of Shania Twain. Honestly... I can't stand whiny, twangy country-western. I very nearly gouged my ears out during the height of Garth Brook's popularity. Billy Ray Cyrus singing "Achy Breaky Heart" was enough to send me into epileptic fits. Yet I love me the Shania Twain...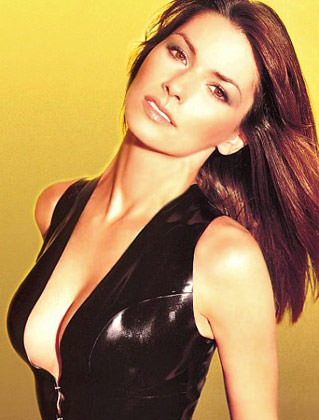 Sure she's brutally hot, but that's only half the package. She's remarkably talented as well. And, for reasons I can't guess, I am totally into her music. And not just her more pop-oriented stuff either... all of it, including the country classics.
I try not to worry about it, but am deathly afraid that it will spread and I'm going to end up buying the latest Willie Nelson or Alan Jackson CD. After that, it's a frightfully short jump to mainlining crap by Clay Aiken and Justin Guarini... at which point I would have to kill myself.
Life was so much simpler before American Idol came along.