Since I am only home for a day to clear off my desk at work and grab some clean clothes, there's not much time for anything else. I pretty much had two goals outside of that: 1) Set up my "recording studio" and 2) Catch up on my TiVo.
Setting up audio recording on the computer-side of things was as simple as I had thought it would be (hey, it's a Macintosh). But since I am a complete novice at this type of stuff, the hardware was a bit more difficult. First I had to figure out how to get it all connected. Then I had to play with all the various dials and switches to try and figure out what they do (the documentation was surprisingly sparse). And then I had to learn the software and experiment with the hundreds of filters and effects to see what works. In then end, this is what I'm working with...
My initial efforts sound a hundred times better than what I was getting before I bought the proper equipment. The recorded sound is much, much warmer and pleasing to listen to (even if it is me). But all is not perfect. The microphone is very sensitive to even the slightest ambient noise... the whir of the hard drive... the click of the mouse... everything is recorded. Some of this can be filtered out, but not all of it. Adjusting the gain doesn't seem to help. Before I can get serious, I'm going to have to either find a quieter spot or figure out a way to lessen the distracting noises.
Then it's time to start animating the tooncast.
Catching up on TiVo was far easier, because there's very little new stuff on TV. About the only thing to see was INXS: Rock Star and The Family Guy. Both were fairly entertaining (though I thought Wil was more talented than some of the other INXS wannabes, and shouldn't have been voted out so quickly). But it was The Family Guy which blew me away. The show is famous for pop culture homages and quirky parody, but their use of a-ha's Take on Me video was pure genius. Chris goes to get a carton of milk when a strangely familiar hand reaches out to him...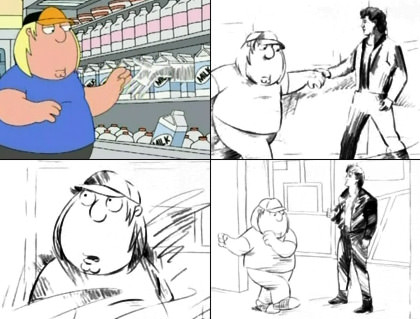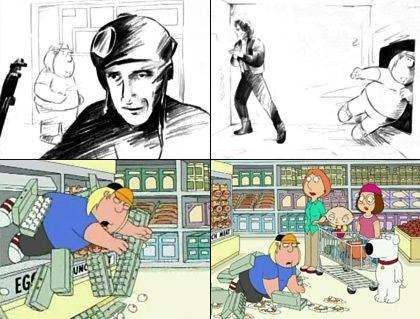 Friggin' sweet!
So much left to do before I fly out again...