Apparently, Daveland disappointed a few people because of some things that were missing. But Daveland is only a small part of a much bigger plan... you see, right next door to the theme park is The Dave Resort. A magnificent place where Dave's legion of worshipers can go to relax and have fun in a Church of Daveology-friendly environment.
Here's a map and list of attractions you'll find at The Dave Resort...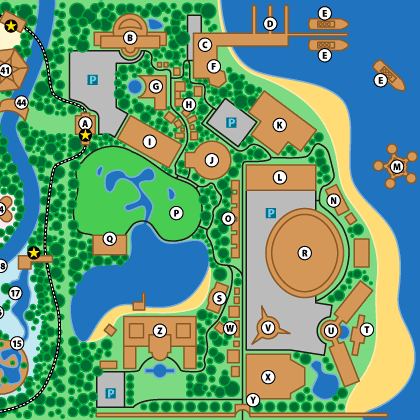 Train to DaveLand. An exclusive stop on the DaveLand railway for guests of the resort.
Daveology House. A mammoth estate house for research and study of the Book of Daveism. Complete with 120 guest rooms for visiting apostles, and a television-studio theater where Dave can preach The Word of Daveism around the globe.
The Grand Davenian Hotel and Marina. 600 room hotel with easy access to the marina. A popular hotel for guests of Dave Cruise Lines.
The Marina. Berths for up to 50 water-craft. Rentals available.
Dave Cruise Lines. Home of the Elizabeth Hurley I, Elizabeth Hurley II, and Elizabeth Hurley III luxury liners. Sail the seas in style, with Dave Cruise Lines!
Davism Outreach Center. Visitors new to the Church of Daveology can attend seminars and lectures by top Daveism theologians daily from 9am to 9pm.
Daveological Center for Global Domination. Here are the offices of the hard-working men and women who battle daily to extend the reach of Dave's Word and the Daveism faith. Fascinating historical tours and gift shop open daily (hours vary by season).
Davetown. A charming shopping village with all the latest shops, including an Apple Store and Barnes and Noble (which has all of Dave's books in stock... guaranteed!). As always, Church of Daveology members get a generous 50% discount when presenting their DaveLocator implant.
DaveLinks Luxury Hotel. Located right off the DaveLinks Golf Course, this stunning 800 room hotel has a built-in mini-mall for shopping and dining at its finest!
The Daverium. Concert venue and laser light show theater for the best in music and live theater! Underground motorcycle parking is complimentary.
The Daveria Hotel and Casino. A luxurious 1400 room all-suite hotel complete with full-gaming casino and Daveology chapel.
The Davearia. Six-story shopping mall with all the high-class stores you know and love. As always, Church of Daveology shoppers receive a 50% discount!
Davetica Oceanic Studies Center and Hotel. This off-shore research facility also has a 300-room underwater luxury hotel with stunning views of the crystal-clear waters of Dave Bay.
Salvi's Bistro, Dave's Pizza, and Alfredo alla Dave. A trio of restaurants featuring the best Italian food from around the world, with all recipes translated into vegetarian classics!
Church of Daveology Business Offices. Administration for Dave's world-wide conglomerate of worship centers.
DaveLinks Golf. Two world-class golf courses in one fabulous location!
DaveLinks Club House & Hotel. This 400 room hotel also features a fully-stocked golf pro shop, a bowling alley, video arcade, and movie theater.
Dave Arena. This state-of-the-art sports arena can be configured for any major world sport in mere hours. Also used by Dave as a place to preach the Book of Daveism to thousands of loyal followers at a time.
DavePlex 10. A ten-screen movie theater with a wide assortment of Elizabeth Hurley classics and all the latest films from around the globe!
Hard Rock Cafe at The Dave Resort. The local installation of this world-wide chain of restaurants features hundreds of pieces of rock-n-roll memorabilia, a full stage, and the best milkshake in the entire resort! Reservations recommended.
Hard Rock Hotel and Casino at The Dave Resort. Complete with a full gaming casino, "The Joint" live music venue, and "King's Spa"; this 1200 room dual-tower luxury hotel is themed with rock-n-roll memorabilia, and has "The Vault," where priceless rock artifacts can be viewed daily from 9am to 9pm.
The Dave Needle and Revolving Restaurant. Enjoy a sweeping panorama of the entire resort from atop The Dave Needle, then dine in style at our revolving restaurant where every table has a view!
Dave Village. Charming shops and restaurants with a European flair. Church of Daveology members should remember to ask for their 50% discount!
The Royal Davenia Apartments. Here is where all employees of The Dave Resort live in luxurious splendor! Features a private shopping complex, theater, and restaurants exclusively for use by resort staff.
The Dave Resort Gateway and Detention Center. Here is the checkpoint for all resort guests. Please note that only motorcycles are allowed entry! If you are traveling via automobile, you must park at the car lot and take the shuttle bus into the resort. Motorcycle rentals are available at all hotels if you would prefer personal transportation outside of the DaveBus resort shuttle system. If a friend or family member has been detained by the Church of Daveology, please check in here at the Dave Global Armed Forced desk.
Lord Dave's Manor and Church of Daveology Expansion Center. The personal residence of our beloved leader, Dave. Also serves as the command center for all Church of Daveology missionary work and chief operations offices for Dave Global Armed Forces.
Alrighty then. Another couple of billion dollars added to the total, but what does money matter?